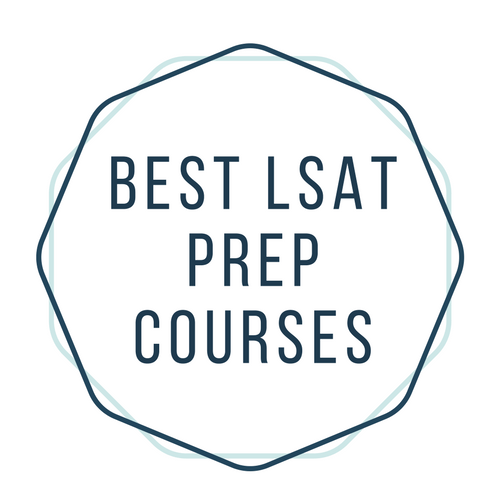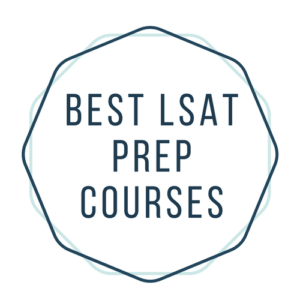 Are you trying to get into a great law school? There's something you have to know:
Getting into one of the 10 best law schools in the country requires an LSAT score of at least 170; the bare minimum for acceptance into a decent law school is 150.1
You probably already know that this is much easier said than done. But there is a way to make it easier for you to achieve a high LSAT score:
Choosing a great online LSAT prep course is a very important decision that plays a huge role in scoring high on the LSAT and getting into the law school of your dreams. That's why it's important to choose the best LSAT review course possible.
If you're doing it right, you will be spending a lot of time studying for the Law School Admission Test. The University of Massachusetts Amherst recommends at least 100 study hours over a four-month period— but you'll probably want to study even more than that.2 After all, your LSAT score is the best way to make the strongest impression on your law school applications when trying to get into the top law schools.
And with so much at stake, it's crucial that you find the LSAT study materials that best fit your learning style and background. So here's the good news:
I have personally researched and reviewed every major LSAT course online to make things easier for you! The comparison chart below will help you decide which set of prep materials are the best fit for your needs.
Which LSAT Course is Right for You?
We've put together a short list of questions that will help us determine which LSAT course is the best pick for you!
---

---
5 Best LSAT Prep Course

s of

2023:
Here are the best LSAT review courses to help you CRUSH on test day and become a lawyer.
The Best LSAT Prep Course Online
---
1. Blueprint LSAT Review Course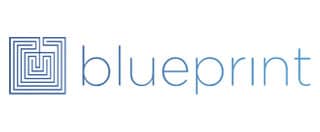 OVERALL RATING: ★★★★★
Blueprint uses adaptive learning and well-designed practice exams to ensure that you master every aspect of the LSAT exam.
Course Details
Blueprint prepares you for the LSAT exam in a way that's unique; your course schedule is decided by examining what you know and what times you're available. This leads to highly variable study calendars between each student.
Your primary methods of learning will be video lectures and practice exams. Each lecture covers a major LSAT concept in a succinct and engaging way. After watching one, you have to demonstrate what you've learned on a short practice exam. This simple but effective process reinforces your knowledge and ensures that you understand each lesson.
Prices for this course depend on how long you want to access it. Currently, they offer 3 months, 6 months, and 1-year options. Each of these has the same content but is priced at $799, $1,199, and $1,599 respectively. If that seems too steep, courses can be paid for monthly through Affirm.
Blueprint LSAT Prep Course Features
68 Interactive Learning Modules
9,000+ LSAT Practice Questions
Personalized LSAT Study Planner
Visually Engaging Video Lectures
Advanced Course Analytics
Custom LSAT Practice Exams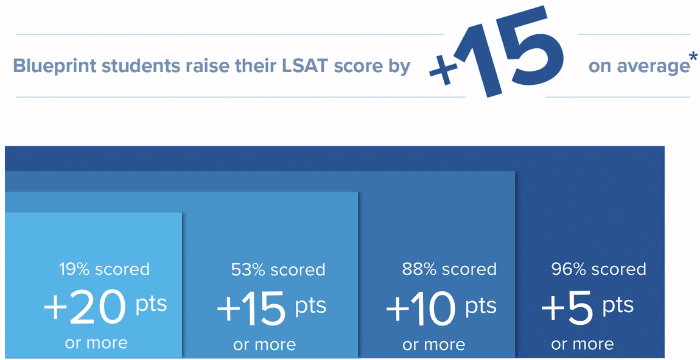 Blueprint Pros & Cons
Personalized Study Planner: Blueprint doesn't waste your time— they tailor their content to fit your individual needs. At the start of the course, you'll be asked various questions about availability and content knowledge. This will help Bluepoint generate a customized study calendar that can be changed at any time with an intuitive drag-and-drop interface.
Engaging Content: The teachers creating this course understand that the best way to engage you is to entertain you. That's why each of their lessons is visually interesting and designed more like a movie than a slideshow. Doing so makes it easier to understand complex deductions and logical principles.
Realistic Practice: Blueprint wants you to be as experienced as possible when you sit for the LSAT exam. That's why they make sure to offer as many practice exams as possible that mimic the LSAT exam perfectly. You can learn useful test-taking skills as you reinforce what you've learned in each lesson with over 7,500 practice questions.
Qualified Teachers: Every aspect of this LSAT course has been designed by a team of highly qualified teaching staff. Each member is both a 98th percentile scorer on the LSAT exam and an experienced instructor. Thanks to that, they're able to easily leverage their knowledge and experiences to create an effective LSAT prep course.
Bottom Line:
Blueprint is our top pick because they're an excellent service for anyone who wants to pass the LSAT exam. They're able to easily adjust their course to fit the individual educational needs of all their customers.
Best Blueprint LSAT Review Discounts & Promo Codes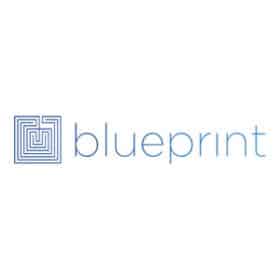 Summer Sale- $350 Off Blueprint LSAT Live Online Course
uses today
Last Used: 19 hours ago
View More
---
2. LSATMax Prep Course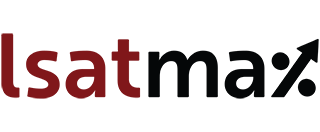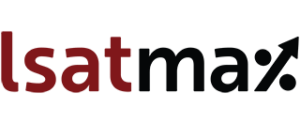 OVERALL RATING: ★★★★★
Course Details
If you want to achieve the highest possible LSAT score, LSATMax should be your first choice. It's the ideal combination of study materials and instruction to ensure that you learn the most relevant information in the most accessible way, eliminating a great deal of stress going into law school.
Since LSATMax only hires 99th percentile instructors, you'll learn from teachers that are intimately familiar with the exam they're teaching. Additionally, the study materials you're given to work with are based closely on the actual exam— including 4 full textbooks and 90 prep tests with content pulled from previous LSATs.
Two more features go a long way to ensure you can confidently sit for the LSAT and achieve a competitive score. The LSAT and LSAT Flex simulators ensure you can practice in identical test conditions, and you can follow up with your instructors over office hours and/or a private message board.
LSATMax Features
99th Percentile Instructors

90 Prep Tests based on previous LSATs

LSAT/LSAT Flex Simulators

4 full textbooks

Message board and office hours
LSATMax Pros & Cons
Mobile App with Online Access: The LSATMax app is free to download and it comes with a ton of free content. You can watch whiteboard video lessons, do daily drills, or complete Logic Games from anywhere. Best of all is the fact that they're the only prep company to offer users the ability to test the brand-new digital LSAT through their app's tablet-LSAT practice mode!
Price: Compared to some of its competitors, LSATMax's online courses are pretty affordable; there's a nice range of packages to fit any budget. The app is free, with limited content, and you can customize your course based on how much practice you need. Courses range from $595 for the 60 day course to $1,495 for the 365 day course. There's also 0% financing available for monthly payments.
Analytic Feedback: The LSATMax app calculates your overall performance in each section to pinpoint your strengths and weaknesses. The allows you to customize your LSAT exam study plan and concentrate on problem areas. Practice questions can also be filtered by type so you can focus on those areas that need the most practice.
Higher Score Guarantee: LSATMax offers a refund if you do not improve your LSAT score after completing the LSATMax course. Given the limited amount of time you can take the LSAT within a two year period, this makes spending your money on LSATMax much easier.
Bottom Line: LSATMax provides extremely helpful self-study materials in a convenient platform and through a modernized format.
Best LSATMax LSAT Review Discounts & Promo Codes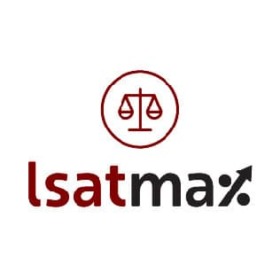 Save up to $2,700 on LSATMax Tutoring
uses today
Last Used: 2 days ago
---
3. Kaplan LSAT Prep Course

OVERALL RATING: ★★★★★
Course Details
College students should be very familiar with Kaplan— they're one of the most popular publishers of textbooks and study guides for several different college-level exams. Naturally, they've got an equally impressive lineup of LSAT study materials, including a few different online LSAT prep courses.
Much like Blueprint, you can choose between a self-paced and live-online prep course through Kaplan's website. These offer similar features and benefits, but you can expect to pay more in comparison to our top-rated options. However, you can get a pretty good deal on tutoring if you sign up for Kaplan's Tutoring+Live Online Course package.
Ultimately, the most impressive aspect of Kaplan's LSAT catalog is their Online Bootcamp, which can't be compared to any other option on this list. Keep in mind that this isn't for the faint of heart; it's an intensive 4-week course that will fully prepare you for a high score and entry into your first choice law school.
Kaplan Features
Self-Paced, Live-Online, Tutoring, and Bootcamp courses

180+ Hours of Video Lessons

60+ LSAT Practice Tests and 300 Quizzes

32 Hours of Classroom Instruction (Live-Online Only)

4-week intensive Bootcamp course
Kaplan Pros & Cons
Personalized Study: Kaplan provides customized recommendations for each student when it comes to preparing for the LSAT. Students are able track their progress and identify areas that need improvement throughout the course so they can focus on those questions that will have the greatest impact on their score.
Higher Score Guarantee: If you have already taken the LSAT and do not improve your score  you are eligible for a full refund from Kaplan. However, this guarantee only applies to their Advantage-Anywhere course option, not their On-Demand course.
No Free Demo: Kaplan does not offer free content or a mobile app to allow students to explore the course before they purchase. However, they do offer the option to take a free 90-minute preview class and a free practice test on their website.
Bottom Line: Kaplan is a well-known and highly reliable resource for students in a wide range of fields. If you can get past the lack of mobile options or a free trial, you'll be in good hands when you study their LSAT review curriculum.
Best Kaplan LSAT Review Discounts & Promo Codes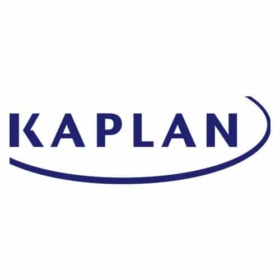 Get 15% Off Kaplan LSAT Live Online Course
14 uses today
Last Used: 1 days ago
---
4. The Princeton Review LSAT Prep Course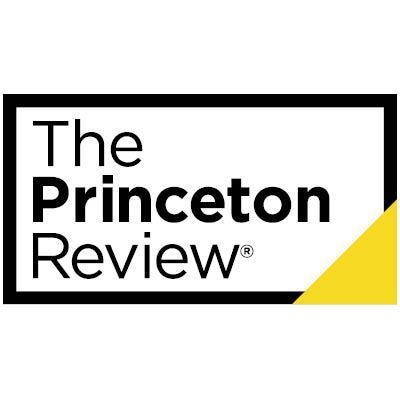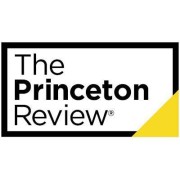 OVERALL RATING: ★★★★★
Course Details
While they're not officially affiliated with Princeton University, The Princeton Review's LSAT prep course is designed to help you get accepted to similarly prestigious law schools. Their secret is a specific course package that guarantees you'll earn a score of at least 165 on your LSAT, which will be good enough to get into many of the top law schools in the country.
But if you're not interested in spending over $1,500 for an Ivy League education, they have more affordable review courses that are still excellent study resources for the average legal student. They include hands-on instruction with qualified teachers and a bevy of lectures plus practice tests.
If you need even more assistance, the same qualified instructors who guide you through each class session can be contacted outside of class for extra help. However, you may also want to consider The Princeton Review's private tutoring packages, which are competitively priced and offer personalized exam review.
The Princeton Review Features
84 Instruction Hours

70+ LSAT Practice Exams

8,000+ LSAT Practice Questions

1,800+ Pages of Study Text

Score Increase Guarantee
The Princeton Review Pros & Cons
Personalized Instruction: Students can choose from a number of course options that give them access to one-on-one time with instructors if they need additional help with concepts or difficult questions. The small-group course and access to instructors outside of regularly scheduled sessions make The Princeton Review a popular option with students.
Quality and Quantity of Study Material: There are many course options to choose from, but all of them give students access to a broad range of practice questions, online drills and study material, proctored practice exams, and recorded video lessons. The Princeton Review stands by the quality of its instruction by offering generous satisfaction and money back guarantees as well.
No Mobile App: Courses emphasize the in-person and live online options and are not geared to portability beyond regular access to the online materials from devices connected to the internet. Many students like the convenience and flexibility of studying for a few minutes whenever they get the chance on their smartphone or tablet; unfortunately, The Princeton Review has not yet developed an app for its LSAT courses.
Bottom Line: If you like to study on your phone for the sake of convenience or mobility, give this course a pass. Otherwise, the large amount of study materials taught by experienced instructors are a fantastic resource for self-motivated students.
Best Princeton Review LSAT Discounts & Promo Codes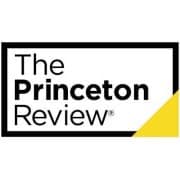 Weekly Deals- Save on Princeton Review LSAT Courses
uses today
Last Used: 1 days ago
---
5. Magoosh Prep LSAT

OVERALL RATING: ★★★★★
Price: In terms of value, you're not going to find a cheaper option that still delivers than the Magoosh LSAT prep. Even though it has a relatively low price, it still offers a plethora of helpful and unique features for test takers. You're not skimping on review materials just because you're paying a little less for this course. Starting at $279 Premium 1-month or Premium 12-month ($299).
Strategy: A great test-taking strategy is sometimes the last thing that students think of during preparation. Magoosh does the thinking for you in this regard, as its experts walk you through the best approaches for studying, provide helpful and constantly updated hints via the blog, and keep you focused on the main topic areas. The new 7,000+ official practice questions will help too.
Simplicity: Sure, you're not going to get all of the fancy features that some of the more pricey courses come replete with, but that may be a benefit for some test takers. The Magoosh course is simple – it gives you the tools with which you need to succeed without overloading you with flashy dashboards or unnecessary graphics.
Bottom Line: If you're overwhelmed by online study tools that have tons of features, you might appreciate Magoosh's stripped-down approach to LSAT study.
---
6. LSAT Lab Review

OVERALL RATING: ★★★★★
LSAT Lab expertly mixes self study materials into their engaging live online courses.
Experienced Staff: LSAT Lab only hires highly qualified professionals to design and teach their classes. Thanks to that, you can rest assured that everything is accurate and useful. Plus, you can benefit from your teacher's professional experience in both classroom and tutoring sessions.
Free Program: LSAT Lab is confident enough in their materials that they let you access some of them without paying. The free starter plan grants you access to video lessons, practice tests, and score analytics. As a result, you can try the course out and form an opinion before paying for anything.
Live Online Focused: LSAT Lab does have materials for self study, but they're not exactly the focus of the course. Instead, live online classes are generally given far more content and care. That's not to say that the self study materials are bad, just that they aren't as well developed as the other classes.
Course Details
LSAT Lab has a heavy focus on live course content with added self-study materials. Most of your learning with this course will involve live webinars and lectures. During each of these you'll have the opportunity to ask questions and receive extra info about the topic being covered. Once you've finished each unit you can then reinforce what you've learned through a series of LSAT practice exams. Doing so ensures that you understand and can apply important LSAT concepts.
Aside from the free starter course, LSAT Lab offers 3 different monthly payment options for their materials. The first one is the premium course for $49 a month, which includes access to all self study materials. After that is the $99 classroom plan for all the live materials. Last is the $299 tutoring option. Choosing this gives everything from the live course as well as weekly tutoring sessions.
LSAT Lab Features
7,500+ Practice Questions
Unlimited Live Classes
75+ Practice LSATs
Score Analytics
Higher Score Guarantee
On Demand Class Recordings
Bottom Line:
LSAT Lab is an excellent course for anyone interested in multiple learning styles, thanks to its combination of live content and practice materials.
Best LSAT Lab Review Discounts & Promo Codes
---
7. Wize LSAT Review Course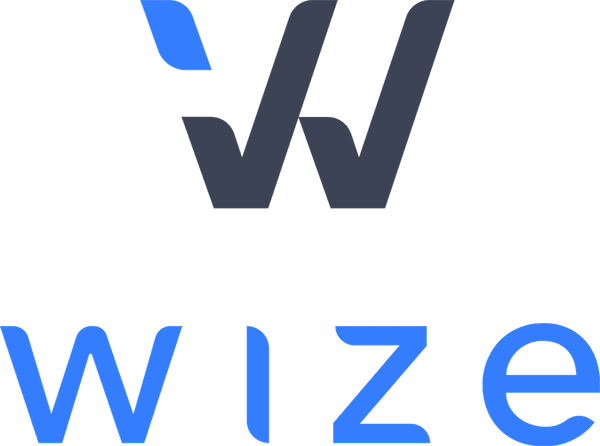 Wize reimagines the traditional educational experience to offer a modern and tech-oriented approach to LSAT prep.
Course Details
Despite what the previous sentence suggests, Wize still understands that there are aspects of a traditional educational environment that are conducive to the learning process. That's why their instructor John is highly qualified with impressive credentials and exam scores.
When signing up for access to Wize, John will act as a personal assistant and help you through each of the 22 LSAT modules. These mini-courses cover logic games, logical reasoning, and reading comprehension. Each one has an estimated time that it takes to complete it, so you should have an easy time accommodating other elements of your schedule while using this course to prepare for the LSAT.
Six months of access to the course costs $599, but you can choose to pay in $50 monthly installments through Partial.ly if you prefer.
Wize LSAT Course Features
22 Modules with Video Instruction
6 Months of Access
Compatible with Mobile Web Browsers
70+ Realistic Practice Exams
Community Assistance
Highly Qualified Instructor
Wize LSAT Pros & Cons
No Wasted Time: This is the perfect LSAT prep course if you already have a busy schedule and want to waste as little time as possible. All of Wize's course modules come with reasonable estimates as to how long it will take to complete, so it's easy to set aside a few hours each day or week to work through a few of them at a time.
Mobile Friendly: Although Wize doesn't have a full mobile app, it's not necessary based on how they've designed the main website where you access the material. Everything included in this course can be accessed on a mobile browser with a decent processor— which includes all modern smartphones and tablets.
Instructor: An educational course is only as good as its instructor. Fortunately, John is one of the best LSAT teachers you can find. He scored in the 99th percentile for the LSAT and other exams, and is a graduate from NYU who's registered as a lawyer in both the United States and Canada.
Short: Although Wize is an excellent tool to help you prepare for law school, it doesn't offer the same volume of study materials that you can get from Blueprint. But if you're looking for something short and sweet, this is still an excellent choice.
Bottom Line:
Students who have a lot going on in their lives can benefit from a low-stress course like this. John does a fantastic job breaking down complicated legal concepts into palatable mini-lessons, which is sure to give your LSAT score a huge boost.
---
8. Alpha Score LSAT Prep Course


OVERALL RATING: ★★★★★
Course Details
What makes this LSAT review course worthwhile is the excellent support and compatibility for students who prefer to work on their phone or tablet. All of the features included with AlphaScore can be easily accessed on your smartphone, which includes special games that will help you prepare for the logical reasoning sections of the LSAT.
Since many questions included with this practice course are pulled from previous exams, you'll get used to the exam format and phrasing fairly quickly after only a few study sessions with this course. In addition to the aforementioned logical reasoning content, AlphaScore also has a lot of helpful material covering the Reading Comprehension section that includes exam-realistic reading passages.
Honestly, students who are studying to retake the LSAT for a higher score would benefit greatly from this course due to most of these features. Being able to focus your study sessions around specific exam sections from your smartphone is a great way to drill any parts of the test where you scored weakly your first time around. But first-timers can take advantage of these materials for similar benefits!
AlphaScore Features
50+ Video Lessons

60+ Practice Exams

1,000+ Practice Questions

Official LSAT Logic Games

Reading Comprehension Passages
AlphaScore Pros & Cons
Compact, Engaging Course: Alpha Score's straightforward and engaging lectures make studying for the LSAT quick and even enjoyable. Videos, animations and explanations help you learn to think like the test makers, so you'll know why certain answers are right or wrong. Alpha Score's test prep courses provide essential tools and strategies to solve even the most difficult problems one step at a time.
Personalized Help From Instructors: There are no live course options, but you can get one-on-one help if you crave a more interactive study experience than the HD video lectures. Seasoned LSAT instructors are available to help you navigate your weaker areas, providing customized study schedules and additional guidance if you need it.
Price: It's always nice to find an online class that's both helpful and affordable. Alpha Score offers a range of study materials at an excellent price. At several hundred dollars less than the competition, it's worth it to use Alpha Score to supplement another LSAT review course you've already purchased, although it's a comprehensive course all by itself!
Outdated Dashboard:

The AlphaScore dashboard and overall technology used to be ahead of it's time, but years have past since their last update. The best way to describe the dashboard today, is basic. The included videos can be grainy, almost as if you're watching an old VHS tape

.
Live Online Course: Unfortunately AlphasScore does not offer any live online options or support. If you're looking for a course that includes a more traditional classroom setting we recommend checking out Blueprint.
Bottom Line: Despite a lack of live content, AlphaScore still manages to provide students with personalized assistance. With its reasonable price and intuitive video controls, this is an excellent prep option for young LSAT test takers.
---
9. TestMasters LSAT Prep Course

OVERALL RATING: ★★★★★
Diagnostic Scoring: TestMasters LSAT course comes with exam diagnostics that help students identify the areas that need the most improvement in order to achieve a high LSAT score. This self-guided prep course helps students focus on the questions they miss and therefore should spend the most time studying.
Database for Flawed Reasoning: TestMasters teaches students how to recognize and avoid common reasoning pitfalls. The extensive database provides examples of the flawed reasoning past students have used on real LSAT questions so that you don't make the same mistakes.
Limited Access: The course is only available to students for 100 days prior to the specific LSAT administration date students choose. Although this might help some students focus their efforts during the weeks immediately prior to the exam, many students prefer more time and flexibility to study.
LEARN MORE ABOUT TESTMASTERS LSAT
---
10. PowerScore LSAT Prep Course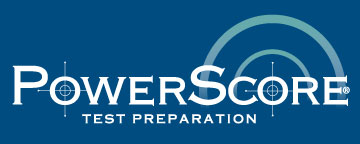 OVERALL RATING: ★★★★★
Question Sets: Practice question sets consist of actual LSAT questions that are geared to the different categories you'll see on the exam. Some question sets are organized by level of difficulty, so students will know where they stand when it comes to solving the more challenging questions on the test.
Proven Materials: PowerScore is known for its popular LSAT study guide series, which includes the Logic Games Bible and the LSAT Reading Comprehension Bible. Although these books are not included in the course, the same techniques are used to help students master the material.
Low Quality Video: Much of the audio and video content has low quality. Although it is possible to understand the video lectures, the quality is lacking, particularly when compared to competitors.
LEARN MORE ABOUT POWERSCORE LSAT
---
11. 7Sage LSAT Prep Course

OVERALL RATING: ★★★★★
Price: 7Sage is one of the least expensive LSAT prep course options. For just $550 you can access their most comprehensive course, which includes 50 hours of video lessons and more than 4,000 problems that are explained in HD video.
No Tutoring Options: There is no option for additional help from trained staff or instructors. They do offer an extensive video library that has examples of how to solve many different LSAT practice problems, however, students who have questions about content that is not covered in the videos or need one-on-one help will need to look elsewhere.
---
Best LSAT Prep Courses – 2023 Comparison
| | |
| --- | --- |
| LSAT Prep Courses | Best For… |
| LSATMax | Best Overall |
| Alpha Score | Engaging |
| Kaplan LSAT | Best Personalized Study |
| Princeton Review LSAT | Best Quality of Material |
| Magoosh LSAT | Most Affordable |
| Manhattan LSAT | Additional Tutoring |
Kaplan vs. Princeton Review
Which is the better LSAT review course, Kaplan's or The Princeton Review? The both provide excellent and effective courses, but the way in which they prepare law students for their exams are very different.
These courses target different learning styles, which can be seen both in Princeton Review's video focused course load and Kaplan's emphasis on practice tests. Also, the two courses have radically different access periods.
Kaplan places a much heavier focus on self study than Princeton Review. They do so by focusing much more heavily on exams and letting students access their course for 12 months. In total, Kaplan provides 75 full length practice exams over the course of your studying experience. Plus, their courses come with a set of textbooks and workbooks for you to study on your own time. By doing all of this, Kaplan is able to effectively deliver on a self paced course based primarily on traditional study methods.
By contrast, the Princeton Review has far fewer tests and instead offers more videos. That's because their study methods are webinar based so as to emulate a classroom experience. In order to accomplish this, their courses come with over 150 hours of video content. Plus, you can also sign up for 1 on 1 tutoring and work with an instructor to assess how far you've come and guide you towards passing the LSAT exam.
Ultimately, your preferred learning style will decide which course to try out. Kaplan is an excellent choice for self study, and The Princeton Review presents an excellent classroom style course. As long as you know your own learning style, it should be easy to choose!
Powerscore vs. Princeton Review
Powerscore and The Princeton Review's materials share a lot of similarities. The two companies overlap quite a bit due to their focus on self-study content and personal tutoring. Despite that, they have some key differences in both the quality and price of their products.
The Princeton Review's private tutoring tends to be much more in depth and effective than Powerscore's. That's because their tutoring sessions last a total of 24 hours altogether. In stark contrast, Powerscore only offers up to 20 hours of tutoring, and only if you pay a premium for it. Plus, their instructors aren't as qualified as the ones employed by The Princeton Review.
Powerscore's prices are also much worse. This can easily be seen by comparing both companies' tutoring and live online course prices. First up, Powerscore tutoring costs $2,800 and The Princeton Review tutoring only costs $1,800. Even though they have less content, Powerscore still charges $1,000 more than Princeton Review!
Next, Powerscore and The Princeton Review charge $1395 and $999 respectively for their online courses. If you compare those numbers while also remembering that The Princeton Review hires more experienced teachers and has more materials, something doesn't add up.
Truthfully there is no reason to choose Powerscore over the Princeton Review. Their prices are far worse and their materials aren't nearly as good.
Additional Resources to Get You On the Right Track
Getting ready for the BAR Exam? Don't worry, I've got your back! Check out my reviews of BAR Prep Courses to make sure you ace the exam. There's also a comparison between Blueprint and TestMasters that reviews both. You can also check out my reviews of DAT Study Materials if that piques your interest.
And if you have any LSAT related questions, just drop a comment below and I'll personally help you find the right course for you!
---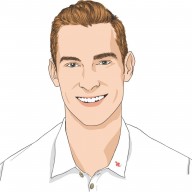 Bryce Welker is an unstoppable force in the worlds of business and education. He's a dynamic speaker, expert blogger, and a regular contributor to top-tier publications like Forbes, Inc.com, Business.com, and AccountingToday.com. With a proven track record of founding over 20 innovative test prep websites, Bryce has helped countless students and professionals pass their certification exams and achieve their dreams. Whether you're seeking career advancement or educational success, Bryce Welker is the ultimate guide to help you get there.