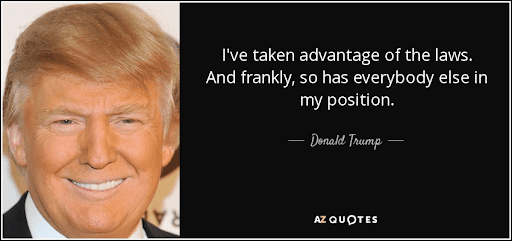 There's a common saying about lawsuits: The only real winners are the lawyers. That's because almost all legal battles are lengthy and painful for the wallets, reputations, and mental well-being of everyone involved.
In this context, lawsuits are considered by many people to be dramatic and emotional affairs. This is demonstrated by films such as Philadelphia and Erin Brockovich. The same is true for the ever-popular docuseries about the Murdocks and other true-crime families. However, the reality is that litigation is rarely as interesting as portrayed on the big screen. The vast majority of lawsuits are boring, miserable, and inconsequential for all but a handful of people.
Despite the overwhelming negativity that comes from lawsuits, they've only become more and more common in America. This can be seen in the consistent growth of working lawyers in the country since the late 1800's, the growing salaries of legal professionals, and in the increased spending on litigation by large companies in recent years.
Aside from business lawsuits and federal lawsuits, legal action among individuals in civil court has also been on the rise over the past 30 years: from around 460,000 cases in 1990 to over 650,000 in 2018, according to data from United States Courts.
Whether it's big business, entertainment, politics, or individual grievances, litigation has long been considered one of America's favorite pastimes. What better way to demonstrate this long-standing trend of being sue-happy than by looking at the extensive legal history of one of the most powerful men in the country?
---
See the Top LSAT Review Courses
Blueprint LSAT Prep Course ◄◄ Best Overall LSAT Review Course
LSATMax LSAT Review Course  ◄◄ Higher LSAT Score Guarantee +  
The Princeton Review LSAT Review Course ◄◄ Quality Study Materials
---
Aside from business lawsuits and federal lawsuits, legal action among individuals in civil court has also been on the rise over the past 30 years: from around 460,000 cases in 1990 to over 650,000 in 2018
---
Trump's Lawsuits: The Greatest Hits
Donald J. Trump, the 45th President of the United States, has been involved in over 4,000 legal battles in some capacity. From his beginnings in the real estate and gambling industries during the 70's and 80's to his entrepreneurial and entertainment ventures in the 90's and early 2000s, all the way to his baffling transition into politics in the 2010s, Trump has been fighting courthouse battles every step of the way. 
Before going any further, here's a quick disclaimer: this piece is meant to be educational and is not a politically motivated attack on the former President. Whether or not Trump has committed any wrongdoings — or is culpable for any wrongdoings — is not the point of this piece. Instead, the goal here is to use his history to understand the reality of lawsuits and how they typically occur in different American industries. 
Also, this article won't discuss all the 4,000+ lawsuits in which he's been involved— that's just not possible! Instead, let's take a look at some of Trump's highest-profile cases with the greatest educational value.
Keep reading to take a look at our breakdown of Donald Trump's most significant and infamous cases!

Trumps' Real Estate Lawsuits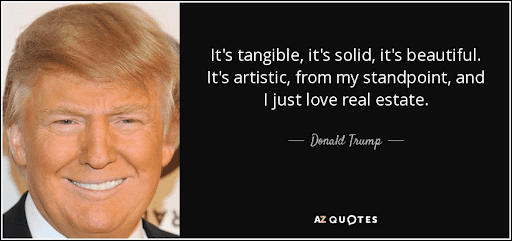 Before becoming an entertainment mogul and politician, Donald Trump began his career in 1968 at his father's New York-based real estate company. He became the company's president 3 years later, naming it The Trump Organization. In his time as president of his business, he supervised many real estate bids, purchases, and projects— many of which involved lengthy legal battles at the federal, state, and civil level. 
Here are some of the noteworthy cases Trump fought as a real estate mogul:
1973 – 1975: United States v. Fred C. Trump, Donald J. Trump & Trump Management, Inc.

During the 1970s, the primary business projects of the Trump Organization involved constructing and renovating hotels, skyscrapers, and apartments in New York City. Actions that were allegedly performed at some of these properties resulted in a civil rights case against Trump, his father, and their business, with the United States Justice Department Civil Rights Division as the prosecution.
This particular lawsuit was filed in federal court instead of state or civil court. This is due to the fact that it involved accusations of violating civil rights law, making it a federal issue. In particular, the plaintiff claimed the Trump Organization violated The Fair Housing Act of 1968, which prohibits "landlords and real estate companies" from "[making] housing unavailable to persons" based on factors such as their race, religion, disabilities, and similar criteria.
According to an article in the New York Times from the year in which the suit was filed, the U.S. Justice Department claimed that the Trump Organization violated The Fair Housing Act because they "required different rental terms and conditions because of race," in addition to "[misrepresenting] to blacks that apartments were not available." According to official court documents, Trump denied any discrimination and his lawyer Roy Cohn moved to dismiss the case due to a lack of substantial evidence. Furthermore, he also filed a counterclaim based on damage to Trump's reputation due to the above New York Times article, requesting $100 million from the U.S. government in damages.
Winner: Draw
This case was settled two years later. As part of the settlement, the Trump Organization was required to submit lists of apartment vacancies to the local civil rights organization, the New York Urban League. According to another New York Times article, the goal of this action was to enable the league to "provide qualified applicants for every fifth vacancy in those Trump buildings where blacks… occupy fewer than 10 percent of the apartments." Since this settlement didn't imply any guilt on the part of Trump or his business but did require his company to take action to encourage more diverse tenants, it can essentially be considered a draw.
1982 – 1986: Tenants of 100 Central Park South v. Donald J. Trump & Park South Associates

One of the many New York real estate business ventures that built Trump's reputation involved a 14-story apartment complex at 100 Central Park South. Now renamed Trump Parc East, this used to be a rent-controlled property, which meant there were many tenants living there who paid far below the average rental costs for that area. Naturally, this isn't an ideal situation for a landlord to be in— especially if they're interested in renovating the entire property to increase its value, as Trump was.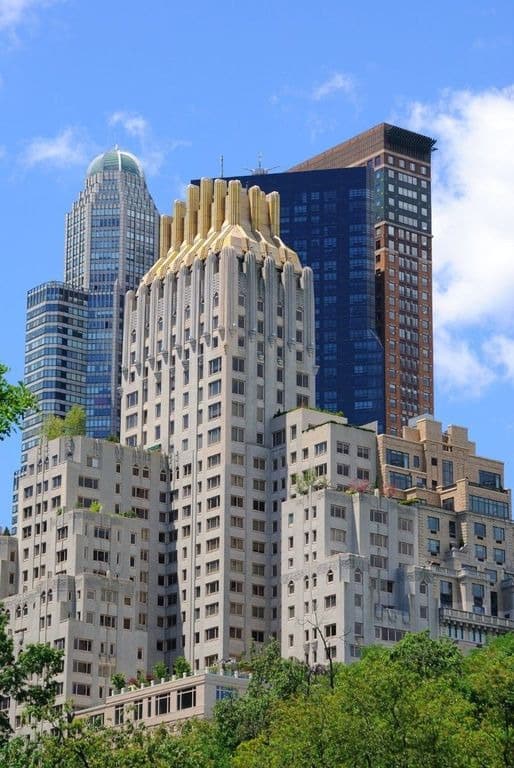 Image Source: Zillow
CNNMoney outlines the lengthy legal battle that ensued over this conflict of interest based on researching the 2,895 different court documents involved in the case. Starting with his purchase of the property in 1981, tenants allege that Trump did everything in his power to force rent-controlled tenants to move. A 1985 New York Times article outlines some of the different tactics the 60-odd tenants claimed Trump engaged in, which included:
Threatening to demolish the property

Suing individual tenants in civil court

Limiting important services like water and heat

Neglecting to fix issues with plumbing and water damage

Hiring spies to gather tenants' personal information

"Engaging in a psychological tug-of-war to wear the tenants down"
One of Trump's alleged schemes to vacate tenants is outlined in another New York Times article from 1983. Dripping with sarcasm, this piece describes how Trump planned on temporarily filling vacant apartments with New York's homeless— seemingly in the hopes of scaring away the other tenants. However, the Human Resources Administration rejected his Machiavellian offer, saying that it "left [them] with an uncomfortable feeling." This bizarre episode was also included in the tenants' legal complaints.
Winner: Tenants
Although Trump would claim victory in his autobiography and in future conversations about the affair, it appears plain as day that the tenants were the real winners. As a 1986 New York Times article describes it, a settlement was reached between both parties that ended all litigation. The tenants were allowed to continue living in the building with their controlled rent, and Trump would instead be renovating the existing structure instead of demolishing it. Trump also ended up paying out $550,000 to the tenants' attorneys. Obviously, this sum isn't a big deal to a billionaire; however, it's a concession that can definitely be seen as an admission of defeat.
1992 – 1997: Donald J. Trump & Mar-a-Lago Club, Inc. v. Palm Beach County

Although Trump's tumultuous real estate career is largely defined by his New York-based projects, his 1985 acquisition of the historical Mar-a-Lago resort in Palm Beach, Florida, is equally significant to his East Coast efforts with regards to his legacy. Since obtaining this property, many lawsuits were filed by Trump against the city in the 1990s, showcasing his trademark business strategy of weaponized litigation.
The lawfare began in 1992, when Trump decided he was going to convert the property into private mansions in order to rent them out and repay his exorbitant debts. This move was blocked by Palm Beach County since they viewed the property as a longstanding historical landmark. As outlined in an article from The Palm Beach Post that year, Trump's response was to file a $50 million lawsuit accusing the county of "conflicts of interest, private meetings, special-interest lobbying, and biased board members."
Another suit was filed in 1995 by Trump, accusing the county of harassing Mar-a-Lago visitors by directing air traffic over the property at low altitudes. An article from the Sun Sentinel chronicles this specific legal battle, which included an accusation from Trump that a judgmental county airport director was "seeking revenge by attacking Mar-a-Lago from the air." 
Trump's reason for believing that Palm Beach County was constantly persecuting him and his club was brought up in yet another lawsuit filed in 1997. An archived article from the Wall Street Journal that same year describes how he filed a discrimination suit for $100 million, which claims the Mar-a-Lago was persecuted "because it is open to Jews and African Americans."
Winner: Trump
After consulting with lawyer Paul Rampell, Trump settled his 1992 lawsuit by converting Mar-a-Lago into "a private club that is open to everyone." Although this sounds like an oxymoron, what it meant in practice was that Trump could freely attract wealthy individuals to join his club who didn't fit in with the rest of the Palm Beach crowd. His 1995 air traffic lawsuit was settled after he convinced the county to lease him 215 acres of barren land in exchange, which became a lucrative private golf club. Finally, the 1997 discrimination lawsuit resulted in most of the county's restrictions being lifted, allowing him to run his private club as he saw fit.
Ultimately, all of these lawsuits directed at Palm Beach County in the 90s resulted in victories for Trump, even if the suits themselves ended in settlement deals. As a 2016 Vanity Fair article recounted, these lawsuits served a cunning purpose— to completely transform Palm Beach society in order to better suit his personal and professional ambitions. In fact, Trump went on to implement a similar strategy in 2002 when purchasing and renovating a golf course in Rancho Palos Verdes, California.
---
Learn More About The LSAT Exam
---
Ultimately, all of these lawsuits directed at Palm Beach County in the 90s resulted in victories for Trump, even if the suits themselves ended in settlement deals.
Trump's Business Lawsuits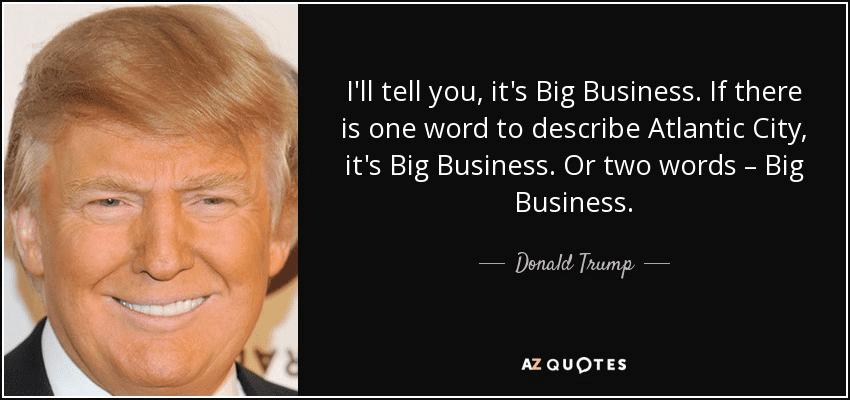 Donald Trump was able to build enough momentum from his real estate career to branch out into many different business ventures. This transition began with his acquisition of several casinos in Atlantic City, New Jersey, over the 1980s and 1990s. From there, he also explored entrepreneurial opportunities in food, education, and entertainment (more on that later).
Here are just a few of the most interesting gambling, entrepreneurship, and other business-related lawsuits fought by Trump:
1990 – 1991: Marvin B. Roffman v. Donald J. Trump & Trump Organization, Inc.

In addition to his numerous real estate projects in New York and Florida, Trump dabbled in several gaming-related projects in New Jersey by purchasing and renovating several casinos located on the Atlantic City boardwalk. First, it was the Trump Plaza Hotel and Casino in 1986, followed by the Trump Marina, the Trump Taj Mahal, and the Trump World's Fair in the late 80's and early 90's.
Although all of Trump's forays into casino ownership were disastrous and led to bankruptcy, the Trump Taj Mahal was notorious for the numerous legal battles centered around it. Even before purchasing the property, Trump had to fight talk show host Merv Griffin with multiple lawsuits just to obtain ownership, as described in a Los Angeles Times article from 1988.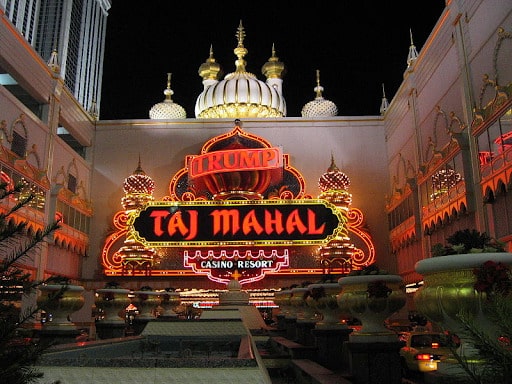 Photo taken by Jesper Rautelle Balle (CC BY 3.0)

However, the most notorious lawsuit relating to this doomed property involved financial analyst Marvin B. Roffman. According to a New York Times article from that time, he was fired from his position due to harsh criticism and multiple lawsuit threats from Trump. The reason for the real estate mogul's ire was that Roffman had gone on record saying that the Trump Taj Mahal was bound to fail due to high operating costs and an imminent downturn in the market. After being constantly badmouthed by Trump in the press, Marvin Roffman decided to file a $2 million suit against Trump and his company for defamation in order to defend his professional reputation.
Winner: Draw
Ultimately, the defamation lawsuit ended in a settlement. Since this means that no official verdict was reached, Trump wasn't proven to have engaged in libel or slander. However, the settlement also meant that he had to work out a satisfactory agreement with Roffman in exchange for clearing up his reputation. The specific details of this settlement are confidential; however, according to a statement given to the AP, Roffman was "extremely happy" with the results.

As a New York Times article from 1991 describes, the financial advisor also received a payout of $750,000 from his former employer as ordered by an arbitration panel from the New York Stock Exchange. However, what's most significant in this case is what happened over the next few years. Roffman's initial comments that got him in so much trouble were proven to be accurate after the Trump Taj Mahal struggled to stay open and eventually went under. This ultimately solidified his reputation as a competent financial analyst, resulting in a draw for both parties.
2008 – 2009: Donald J. Trump v. Deutsche Bank

Trump's bombastic and highly ambitious business strategies have undeniably led to some impressive victories, but it's also led to many disastrous losses. In fact, it can be argued that Trump's true strength in business isn't finding great deals but maneuvering his way out of the bad ones in order to avoid the consequences of failure. The best way to illustrate this point is through his lawsuit against a German bank in the late 2000s.

2008 saw the beginning of the Great Recession, a term now used to describe the worst global financial crisis since the Great Depression. One of the most significant factors that led to this recession was the bursting of the subprime mortgage bubble, which involved granting substantial, high-risk loans to property owners with poor credit. Unsurprisingly, many of these lenders were unable to pay back their loans— which is precisely the situation Trump found himself in when he had to repay a $334 million loan to Deutsche Bank for a Chicago skyscraper his company was in the process of building.

When facing potential consequences for failing to pay back this loan, Trump decided to sue the bank for $3 billion in damages to his reputation and the project. A 2008 New York Times article outlined his justification for the lawsuit, which was mainly to attest that he shouldn't be forced to repay the loan in the initially agreed-upon time period.
Winner: Trump
The crux of Trump's argument outlined in his lawsuit was the presence of a force majeure clause, which is also commonly referred to as an "Act of God." Force majeure is a common addition to many legal agreements that removes liability from either party to fulfill it if they are affected by events that are out of their control. And according to Trump, the 2008 financial crisis counted as such an act, rendering him no longer beholden to the original deal.

As this archived article from the Wall Street Journal describes it, this initial lawsuit caused Deutsche Bank to file its own countersuit against Trump for $40 million. These dueling lawsuits opened up new negotiations regarding the loan, which led to both cases being settled out of court the next year. And while the bank did eventually get their money back, it was on terms that were much more favorable to Trump, making him the clear winner in this legal battle.
---
Trump's true strength in business isn't finding great deals, but maneuvering his way out of the bad ones in order to avoid the consequences of failure.
---
2010 – 2016: Tarla Makaeff, Sonny Low, Art Cohen & New York v. Donald J. Trump, Michael Sexton & Trump University Lawsuits

Over the decades, Trump would use his brand as a self-made billionaire to branch out into a variety of business deals and endorsements: some relevant to his experiences, and others not so much. However, when he attempted to leverage this brand into Trump University, he encountered a great deal of legal resistance— both at individual and state levels.

In the beginning, this resistance took the form of letters sent by the New York State Department of Education and the Deputy Commissioner for Higher Education. According to a 2010 NY Daily News article, the reason for these departments' objections was that Trump was misleading potential students by labeling his business as a 'University,' despite not having any official accreditation or offering any official college credits. To prevent these complaints from escalating into legal action, the business was renamed The Trump Entrepreneur Initiative. However, this action alone wasn't enough to protect Trump and his for-profit educational institution from harsh litigation.

Trump University became the subject of three lawsuits over the next six years:

In 2010,

a class-action lawsuit

alleging fraud and false advertising was filed by former students

Tarla Makaeff and Sonny Low

against Trump's school.

In California,

a similar class-action lawsuit

was filed directly against Trump by businessman

Art Cohen

three years later, alleging that his school's "Live Events" were misleading and potentially involved in racketeering. 

Finally,

Attorney General A.G. Schneiderman

represented the State of New York in

suing Trump and the school's president Michael Sexton for $40 million

in 2013, alleging "persistent fraudulent, illegal, and deceptive conduct."
Winner: Plaintiffs
From comments made by Trump and his legal team about his school and the judge presiding over his case, it appears that they had every intention of fighting these legal battles to the end. However, the events of the 2016 election would change these plans and force Trump to reach another settlement.
Trump initially attempted to combat Schniederman's $40 million suit with a complaint of misconduct in 2013. However, the complaint was thrown out and he was found personally liable by the Supreme Court one year later. This action strengthened the two class-action lawsuits, which eventually forced Trump to pay out $25 million in order to settle the cases before his presidential term.
Much like many of the cases previously mentioned, the conclusion of these lawsuits meant that Trump was never officially found guilty of any wrongdoing. However, the closure of Trump University and the money he was forced to pay out are strong indicators of his defeat.
---
Get Discounts On LSAT Review Courses!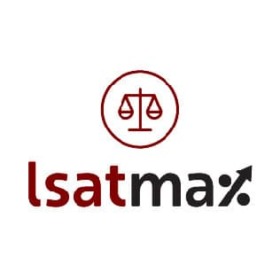 Save up to $2,700 on LSATMax Tutoring
uses today
Last Used: 15 hours ago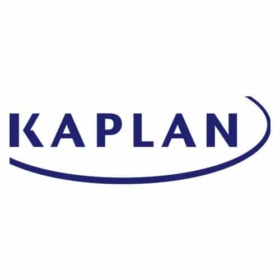 Get $240 Off Kaplan LSAT Live Online Course
36 uses today
Last Used: 1 days ago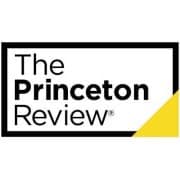 Weekly Deals- Save on Princeton Review LSAT Courses
uses today
Last Used: 5 days ago
View More
---
Trump was never officially found guilty of any wrongdoing. However, the closure of Trump University and the money he was forced to pay out are strong indicators of his defeat.
---
Trump's Entertainment Lawsuits

While the foundation of Trump's empire is in his gargantuan real estate projects, his impact on pop culture and entertainment is equally significant to his current legacy— if not more so. Starting with the publishing of his pseudo-memoir Trump: The Art of the Deal in the late 1980s, he's also dabbled in beauty pageants, sports, and network television. 
As is customary, his ventures into the entertainment industry resulted in many high-profile legal battles. Several of these incidents involved accusations of misdeeds committed by Trump, such as sexual harassment and financial negligence. However, many more lawsuits have been filed by Trump against his critics and detractors in order to protect his brand and gain leverage in aggressive business negotiations.
Here are some of the most notorious lawsuits relating to Donald Trump's entertainment career:
1986: USFL v. NFL

In addition to real estate ventures and entrepreneurial projects, Donald Trump has been known to be something of an athlete. He's an avid golfer —having stated that it's his primary form of exercise— and a member of the WWE Hall of Fame. He also enjoys watching football, which may have been the impetus for his purchase of the New Jersey Generals, a football team in the fledgling United States Football League.
The short history of the USFL is fascinating, from its initial rise in popularity to its closure just three years later. It began in 1983 as an indirect competitor to the National Football League by playing games during its off-season in the spring. But as an oral history published by Esquire describes the events, Trump would motivate the league to more aggressively target the NFL through a combination of reckless spending, schedule changes, and litigation.
In 1986, the USFL was on the verge of total collapse. In a last-ditch effort to survive, Trump and the other league owners collectively agreed to sue the NFL for $1.7 billion. According to a law review article from Berkeley about the case, this was an antitrust lawsuit claiming that the NFL was preventing the USFL from broadcasting on several of their owned TV stations. Although not specifically mentioned by name as a plaintiff in the lawsuit, Donald Trump served as a witness in the trial and was considered the primary motivator for taking legal action.
Winner: USFL (Sort of)
Based on quotes from former team member Dave Lapham and documentarian Mike Tollin in the Esquire article, it appears that Trump's actions with the USFL had ulterior motives. Instead of wanting to establish both leagues as genuine competitors, he wanted to force the NFL to make a merger— or just bring him on as an NFL team owner. In that sense, the antitrust lawsuit would be another of Trump's implementations of lawfare to force a favorable business negotiation.
What ended up happening instead is that the USFL won its case against the NFL. However, this ended up being a Pyrrhic victory since the NFL was only required to pay out $3 and had no interest in a merger. This insultingly low payout would end up being the death of the USFL and the end of Donald Trump's career as a football team owner.
It appears that Trump's actions with the USFL had ulterior motives. Instead of wanting to establish both leagues as genuine competitors, he wanted to force the NFL to make a merger— or just bring him on as an NFL team owner.
---
1995 – 1997: Jill Harth & American Dream Enterprise v. Donald J. Trump, Nick Ribis & Roger Wagner

In the mid-1990s, Trump purchased the Miss Universe beauty pageants, which included Miss USA and Miss Teen USA, and helped manage them until 2015, when he sold the entire organization to WME/IMG. Much like seemingly all of Trump's other business ventures, this was also the inspiration for several aggressive lawsuits— such as the ones he filed against a former contestant and a television broadcasting company. But there's one particular legal battle during this time that's especially sensational and fascinating when considering Trump's decision to pursue this specific field of business.
As a rich playboy from New York, Donald Trump has both attracted and pursued a great deal of attention from women over the years. Consequently, his actions in and out of wedlock add another implication to his decision to enter this field— as do numerous complaints directed at him from others in the industry. Although many of these complaints were kept out of the courts, one allegation of sexual misconduct against the controversial entrepreneur did turn into a full-blown lawsuit.
 In 1992, Jill Harth and George Houraney approached Trump to participate in their American Dream Festival by helping them organize a "Calendar Girl" pin-up competition. According to the couple, Trump expressed an interest in both the beauty pageant and in Harth herself, which led to her filing a lawsuit against him and two of his associates in 1997. This suit alleged that Trump and two of his employees —Nick Ribis and Roger Wagner— sexually propositioned and assaulted her several times. Two years before the $125 million harassment lawsuit was filed, however, Jill's partner George and his company, American Dream Enterprise, also sued Trump for breach of contract. 
Winner: Draw
Although the records relating to these cases have been sealed by the courts, a 2016 Boston Globe article has some information on the case. Based on the series of events surrounding both Houraney and Harth's suits, it appears that they were intended to combat Trump on multiple fronts for a business deal and personal relationship that went sour. Ultimately, both parties decided to settle the lawsuits in 1997 according to a snippet from the NY Daily News.
With so little information available to the public, it appears that this case is another draw with no clear winner. But what's interesting about this incident is that both parties have seemingly reconciled after its conclusion, with George being invited to Trump's Christmas party just a few months later and Jill lobbying to work as Trump's makeup artist during the 2016 election.
2006 – 2011: Donald J. Trump v. Timothy O'Brien & Warner Books

Out of all his businesses, properties, and accomplishments, Trump's most lucrative asset is his brand. The way that he handles new business deals and finds leverage when negotiating is through his image as a self-made billionaire. After all, his perceived success and skill in business were the primary appeal to contestants and viewers of his reality show, The Apprentice. Consequently, Trump is highly motivated to react aggressively when this brand is under attack, as it was in 2006 when a book was released titled TrumpNation: The Art of Being The Donald.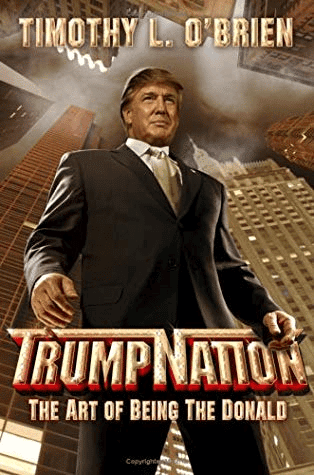 Image Source: Goodreads
TrumpNation was written by Timothy O'Brien, a New York Times journalist. Released in 2005, the book is described as "a real-life study of [Trump's] colorful and contradictory world" based on time spent with him, his colleagues, and some of his rivals. After conducting a substantial amount of research into Trump's history —including receiving permission from the man himself to look into his financial records— O'Brien concluded in his book that Trump's net worth was somewhere in the hundreds of millions.
Although this certainly is still an impressive number, the fact remains that this statement harshly contrasts Trump's long-standing reputation as a billionaire. As a result, Trump sued both O'Brien and his book's publisher, Warner Books, for $5 billion in 2006. Accusing the author and publisher of libel, Trump and his legal team attested that TrumpNation was a "malicious scheme" filled with "vile statements" that was intended to "damage him in his business and professional dealings," among other harsh criticisms.
Winner: Timothy O'Brien
Realistically speaking, it doesn't make sense to demand billions of dollars in damages from a publishing company and a report, no matter how successful or lauded either may be. There's just no way that these individuals or entities would be capable of paying out that much money. Instead, it's far more likely that this flamboyant litigation was meant to force a settlement, pull the book from publication, and/or reinforce Trump's image as being actually worth the billions of dollars in claimed damages.
This theory holds water when you consider a snippet from Trump's deposition from the case that was quoted in a National Review article. In it, the man himself stated, "My net worth fluctuates, and it goes up and down with markets and with attitudes and with feelings, even my own feelings." By this logic, Trump may have felt that TrumpNation hurt his feelings, causing his net worth to drop and therefore giving him the legal right to sue for damages. However, the New Jersey family court system didn't agree with this line of reasoning and threw out the case in 2009, later affirming the decision in 2011 despite attempts to continue the case in appeals court.
---
Out of all his businesses, properties, and accomplishments, Trump's most lucrative asset is his brand. The way that he handles new business deals and finds leverage when negotiating is through his image as a self-made billionaire.
---
Trump's Political Lawsuits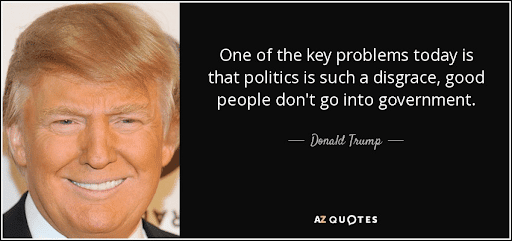 In a move that surprised nearly everyone in the world, Donald Trump pivoted from a career in business to a career in politics when he became the 45th President of the United States in 2016. However, as the near-constant investigations into his administration have shown, he has still retained his habit of constantly attracting legal attention.
(Another disclaimer: this section won't discuss President Donald Trump's investigation by Robert Mueller for Russian election interference or his impeachment trial. Although both of these cases are interesting looks into the American legal system as it relates to politics, they don't technically qualify as lawsuits. Additionally, the conversation around these subjects are politically sensitive and far beyond the scope of this educational piece.)
Instead, take a look at these three other legal occurrences in Trump's tumultuous experience as leader of the free world:
2017 – 2018: Washington, Minnesota & Hawaii v. Donald J. Trump

Trump's presidential election campaign was centered around many hot-button issues, but none were more prominent than the subject of immigration. One of the many statements made by the businessman-turned-politician was the need for the US to enforce harsh travel restrictions on several countries with a high Muslim population "until [United States] representatives can figure out what is going on."
Although this was a highly controversial and polarizing statement, it was a hit among many of Trump's political supporters and aspiring cabinet members. Because of this, one of the first major actions taken by the new president in 2016 was Executive Order 13769, which restricted immigration, refuge, and travel to the US for citizens from Iran, Iraq, Libya, Somalia, Sudan, Syria, and Yemen for 90 days. As legal records from the University of Michigan Law School show, this move was met immediately with harsh litigation from several states and organizations.
Three days after the executive order was signed into law, a federal lawsuit was filed against President Trump, with the states of Washington and Minnesota as plaintiffs. Four days after this lawsuit, Hawaii was the plaintiff in another federal lawsuit against the president. Although many more lawsuits and other legal actions were filed in reaction to this executive order, these two cases involving these three states would have the most significant impact on what was referred to as "the Muslim ban."
Winner: Draw
On February 3rd, —the same day as the Hawaii lawsuit was filed— a Temporary Restraining Order (TRO) was granted by the courts in the Washington and Minnesota cases. This TRO suspended the 90-day travel ban for 90 days, effectively nullifying it. In response, the Trump administration rescinded the ban and filed an amended version, Executive Order 13780, on March 6th. This version loosened some of the restrictions and removed Iraq from the ban; however, this was met with another TRO as a result of the Hawaii case, which later became an injunction.
Over the next year, these two lawsuits would become battles of attrition. Numerous political and civil rights organizations, such as the International Refugee Assistance Project (IRAP) and the American Civil Liberties Union (ACLU) would collaborate with the state suits while pursuing their own litigation. However, after a third executive order from Trump on September 27, followed by a third TRO/injunction granted in the Hawaii case on October 17, a conclusion was reached on December 4 of that year that ultimately resulted in victory for the administration. 
When the Supreme Court granted a stay on the third executive order's injunction at the end of 2017, the travel ban was allowed to go into effect as intended. Since the highest court of the US Judicial branch has the final word in the country's legal system, the case was eventually closed despite many protests. Up to that point, however, the plaintiffs had successfully limited the ban's power and forced the Trump administration to heavily revise it to meet their criticism. As of the time when this article was written, the modified travel ban stands with a total of 13 countries on the list.
2018 – 2019: Stephanie Clifford v. Donald J. Trump & Michael Cohen

Although Trump has often flaunted his philandering and welcomed the attention it brought him in the past, he needed to downplay his chauvinistic nature in order to appeal to Republican voters during the 2016 election. For that reason, the Trump campaign managers and his legal team sought to silence his former mistresses and lovers— seemingly by any means necessary.
Money was the method used with Stormy Daniels, an adult film star who had an affair with Trump just one year after he married his third wife. According to an archived Wall Street Journal article, Daniels —whose real name is Stephanie Clifford— was paid $130,000 for her silence in October 2016 by Michael Cohen, an attorney from The Trump Organization. Clifford would later allege that she had been coerced into taking the deal with thinly veiled threats against her and her daughter.
In March of 2018, Clifford filed a civil lawsuit against Cohen and Trump in Los Angeles that claimed the agreement was invalid and she had done nothing wrong. Not long after, she would file another lawsuit for defamation against the President in April for denying her story. The civil suit stated that Trump "purposely did not sign the agreement" that Cohen gave her, presumably so that he could "publicly disavow any knowledge of the Hush Agreement." In the second lawsuit, she alleged that Trump's statements on Twitter questioning her claims "falsely attacks the veracity of [her] account of the threatening incident."
---
Although Trump has often flaunted his philandering and welcomed the attention it brought him in the past, he needed to downplay his chauvinistic nature in order to appeal to Republican voters during the 2016 election.
---
Winner: Trump (but not Cohen)
While this lawsuit dominated the news cycle, watchdog organization Common Cause filed complaints to the US Department of Justice and the Federal Election Commission, suspecting that Trump used campaign funds to pay the hush agreement. Then, the FBI raided Cohen's office and recovered documents relating to the hush agreement as part of the then-ongoing Mueller probe. As a result of this investigation, Michael Cohen was sentenced to three years in prison for several financial and political crimes, including his role in the hush agreement.

Image Source: Wikipedia (CC BY 3.0)
In the wake of this series of events, Trump's legal team stated that they wouldn't enforce the hush agreement, effectively declaring it invalid and ending Clifford's civil suit. Not long after, Clifford's defamation lawsuit was dismissed in federal court due to Trump's statements being protected by the First Amendment. As a result of this, she was ordered to pay $293,000 to cover Trump's legal fees.
When looking at the series of events that occurred, it's hard to see Trump as anything other than the winner. The affair was successfully withheld from public knowledge until well after Trump's campaign, his attorney took the blame and repercussions for the payment, his accuser was forced to pay him a greater sum than the initial hush money, and the FBI investigation ended with him still in the White House. It's certainly not a clean victory, considering that Cohen is still behind bars; however, it's a victory nonetheless.
2019 – Present: Donald J. Trump & The Trump Organization v. Elijah E. Cummings, Peter Kenny, Deutsche Bank AG, Capital One & Mazars USA

Although Donald Trump has spent nearly his entire life in the public eye, the amount of scrutiny placed on him and his business dealings has exponentially grown since he became President. Due to partisan political warfare, feverish news hounds, and federal investigations, a whole lot of people want to know about Trump's finances. And while Trump had successfully been able to fight off many of these inquiries, the fallout of his Stormy Daniels lawsuits led to the New York attorney general demanding that his banks reveal the records of their dealings with the Commander in Chief.
In response to this latest federal financial inquiry, Trump and his team went on the legal defensive. This started with a federal suit that attempted to block his accounting firm, Mazars USA, from sharing their records with House of Representatives members Elijah E. Cummings and Peter Kenny. According to the complaint attached to the suit, Trump's team claimed that the investigation "lacks a legitimate legislative purpose" and was intended "as a political tool against the President now and in the 2023election."
One week after the filing of this suit, Trump's legal team filed another lawsuit against Deutsche Bank and Capital One, two of his banks that were subpoenaed to release Trump's records. This second suit contains similar content to the first one but also stated that both banks "face a difficult choice" between disobeying a federal subpoena and becoming liable to Trump by violating his confidentiality. As a result of this conflict, this suit requests that both banks "hold onto the subpoenaed materials until the dispute over the subpoenas' validity is finally resolved in court."
Winner: See Important Update
As of the time when this article was written, this legal battle is ongoing. The most recent development in the case is that the Supreme Court will hear arguments on March 31st, 2023, with the intention of making a ruling sometime in June. It's impossible to tell whether or not this future ruling will be favorable for the President, but it hasn't stopped anyone from offering their predictions.
One particularly interesting perspective on this case and its potential outcome comes from an amicus curiae brief that was submitted to the suit by the Constitutional Accountability Center, a non-profit legal think tank. This brief states that the aforementioned "legitimate legislative basis" that both of Trump's lawsuits allege is missing from the House's actions are actually present. As they put it, the justification for an investigation into the President's financial records is valid because it can "aid Congress's determination" in legal battles based around "lending practices, money laundering," and "fraud at financial institutions," among other potential crimes. Additionally, the brief attests that "Recognition of Congress's broad authority to investigate is longstanding" and even "predates the birth of the United States."
Based on these statements and the substantial amount of examples given to back them up —including one from George Washington's presidency— , it appears that this might be a case that Trump can't win. However, Trump has a long history of defying expectations and avoiding negative consequences for his actions, so who knows?
** In July 2020, the Supreme Court ruled that Congress could, under certain circumstances, subpoena the president's financial records. The Supreme Court returned the case to the lower courts to further review the subpoenas, using a more stringent set of standards to determine their validity.**
Trump Lawsuits: An Overview of 2020
Trump v. Vance: This case revolved around the Manhattan District Attorney's subpoena for Trump's financial records, including his tax returns, as part of a broader criminal investigation. In July 2020, the Supreme Court ruled that presidents do not have absolute immunity from state criminal investigations, and Trump cannot block the subpoena. However, Trump could still challenge the subpoena on other grounds.
Trump v. Mazars USA, LLP: In this case, the Supreme Court reviewed whether Congress had the authority to subpoena the president's financial records from third parties, in this case, Trump's accounting firm. While the court affirmed Congress's ability to request such information, it set out a more stringent four-factor test that lower courts should use to assess the validity of such subpoenas, sending the case back for further review.
Election-related Lawsuits: Following the November 2020 Presidential Election, the Trump campaign and its allies filed dozens of lawsuits in multiple states, including Pennsylvania, Michigan, Wisconsin, Arizona, Nevada, and Georgia. These suits generally alleged voting irregularities, fraud, and issues with mail-in ballots. Most of these lawsuits were dismissed or dropped due to lack of evidence. The U.S. Department of Justice also found no evidence of widespread voter fraud that would change the outcome of the 2020 election.
Emoluments Cases: There were multiple lawsuits that allege Trump violated the Constitution's Emoluments Clauses by profiting from foreign and state spending at his hotels and other businesses. Some of these suits progressed in 2020, although they began before that year. The Emoluments Clauses prohibit the president from receiving any payment or benefit from foreign states or from the U.S. government, aside from their official salary.
Trump v. Pennsylvania: In this case, Trump's campaign challenged Pennsylvania's mail-in voting procedures. The case reached the Supreme Court on an expedited timeline. However, the Court declined to take any immediate action, and after the election, the case became moot.
Trump Litigation 2021
Impeachment Trial: In early 2021, Donald Trump faced his second impeachment trial in the U.S. Senate. He was impeached by the House of Representatives in January 2021 on charges of "incitement of insurrection" following the events at the U.S. Capitol on January 6th. However, the Senate did not reach the required two-thirds majority to convict him, resulting in his acquittal.
Criminal Investigation in Georgia: There's an ongoing investigation in Fulton County, Georgia, into a phone call Trump made to Georgia Secretary of State Brad Raffensperger. In this call, Trump urged him to "find" enough votes to overturn the state's 2020 election results. This probe seeks to determine whether Trump violated any state laws.
New York Investigation: The Manhattan District Attorney's office has been conducting a criminal investigation into Trump's financial dealings, including alleged hush money payments, tax violations, and other financial misdeeds. In February 2021, the Supreme Court cleared the way for the DA's office to obtain Trump's tax returns.
Civil Investigation in New York: New York Attorney General Letitia James is leading a separate civil investigation into the Trump Organization's financial dealings, examining whether the company inflated assets on financial statements.
Capitol Riot Lawsuits: Trump, along with Rudy Giuliani and some extremist groups, was sued by two Capitol Police officers for his alleged role in inciting the January 6th Capitol riot.
Trump Litigation 2022-2023
The Mar-a-Lago classified documents case
Location: Florida
Trial date: May 20, 2024
Details: Trump allegedly stored classified documents at his Florida resort, refusing to give them to the FBI and National Archives. Federal prosecutors claim Trump bragged about having the documents and tried to mislead federal law enforcement. Trump's aide, Walt Nauta, also faces charges. Trump's campaign claims the charges are an attempt by the Biden administration to harass him.
The Stormy Daniels hush money case
Location: New York
Trial date: March 25, 2024
Details: Trump faces charges related to payments made to adult film star Stormy Daniels before the 2016 election to silence her about an alleged affair. While Trump admits to reimbursing his attorney for paying Daniels, he denies the affair.
The Jan. 6 case
Location: Washington, D.C.
Trial date: March 4, 2024
Details: Trump is charged for actions around his efforts to maintain power after losing the 2020 election. This is related to the attack on the Capitol on Jan. 6. Trump encouraged his supporters to "fight like hell" and pressured then-Vice President Mike Pence to not certify the election results.
Georgia 2020 election interference
Location: Georgia
Trial date: TBD
Details: Trump and 18 allies were indicted for trying to overturn the 2020 election results in Georgia. Trump allegedly pressured the Georgia Secretary of State to "find" ballots for him after losing the state. Trump faces multiple charges, including solicitation of a public official to violate their oath.
New York AG Letitia James' suit against Trump for alleged fraud
Location: New York
Trial date: Oct. 2, 2023
Details: After a long investigation, NY Attorney General Letitia James filed a civil lawsuit against Trump for inflating his net worth to enrich himself. There is an ongoing effort to ban Trump and associated individuals from running businesses in New York.
E. Jean Carroll vs. Donald Trump Defamation Lawsuit (Trump Loses)
In a significant legal decision against former President Donald Trump, a federal judge ruled that an upcoming jury will only determine the damages Trump must pay to E. Jean Carroll in her defamation lawsuit. This comes after Judge Lewis Kaplan deemed Trump liable for defamatory remarks made against Carroll.
Carroll, previously a magazine columnist, accused Trump of raping her at a Bergdorf Goodman department store in the mid-1990s. Trump's subsequent denial of her claims, in which he stated he didn't know Carroll and she wasn't his "type," was the basis for her defamation lawsuit.
Earlier in the year, following a two-week trial in May, a jury determined that Trump had both sexually abused and defamed Carroll with his 2022 statements, awarding her $5 million in damages. Given this verdict, Kaplan ruled that Trump cannot contest the veracity of his 2019 remarks about Carroll's allegations, as the jury's findings from the previous case, in which they concluded Carroll did not lie about the assault, remain binding.
Judge Kaplan has clarified that the forthcoming trial on January 15 will solely focus on determining the compensation Trump owes Carroll for his defamatory statements. This legal setback for Trump occurs amid a backdrop of multiple ongoing criminal and civil legal challenges, coinciding with his new presidential campaign endeavors.
Mary Trump vs Donald J Trump 
Former President Donald Trump and his niece, Mary Trump, battled in court over her claims that she was defrauded of millions in a 2001 family settlement. Mary Trump's allegations came to the forefront after a 2018 New York Times article, which won a Pulitzer Prize, shed light on suspect tax schemes involving the Trump family. She provided the article's reporters with 19 boxes of records obtained from the said settlement.
However, a New York judge dismissed her lawsuit, stating that her claims were already addressed in a previous agreement made over two decades ago. The dismissal cites that the terms of their earlier settlement barred her current claims. While Mary Trump's attorneys argue that the New York Supreme Court judge made multiple errors in judgment, this dismissal marks another legal victory for the former president.
Michael Cohen's Retaliation Lawsuit
A federal judge has ruled against Michael Cohen's retaliation lawsuit in which he alleged that former President Donald Trump, along with other individuals, had him imprisoned to silence his criticisms of Trump.
District Judge Lewis Liman, while sympathetic to Cohen's stance, clarified that Supreme Court precedents prevent him from letting the case proceed. Cohen's accusations revolved around an alleged attempt by Trump, backed by former Attorney General William Barr, to hinder him from publicizing a forthcoming book while he was under home confinement.
Cohen, who previously served as Trump's personal attorney, was completing his sentence for lying to Congress and campaign violations at his residence due to concerns related to the Covid-19 pandemic. In the summer of 2020, he began a social media campaign and, during a subsequent courthouse visit meant to finalize his home confinement terms, was apprehended and spent 16 days in solitary confinement.
Cohen's contention was that this imprisonment, orchestrated by Barr's Justice Department, was a direct retaliation for his intent to disclose information about Trump in a book. Another federal judge accepted this viewpoint, and Cohen was subsequently shifted to home confinement in July 2020.
Following his release, Cohen authored his book, started a podcast, and became a regular critic of Trump on cable TV. After concluding his three-year sentence from his apartment, he filed the lawsuit against Trump and Barr, among others, the following month.
Despite the dismissal of his case, Cohen expressed his disagreement and vowed to persist in revealing the perceived injustices he faced under the Trump administration.
Key Takeaways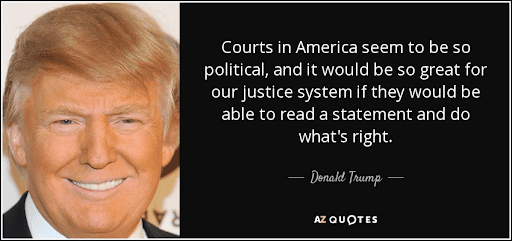 When analyzing Trump's actions over the decades and the lawsuits they often incurred, some habits and patterns begin to reveal themselves. As a result, these cases have grown to define Trump's character in the eyes of the world— for better and for worse.
But what does Trump's storied legal history teach us? Here are the most relevant and noteworthy lessons we can learn from his frequent bouts in the United States legal system:
Lawsuits Can be Weaponized
The most obvious lesson that can be learned from Trump's legal history is that you can weaponize lawsuits for your own ends. The Deutsche Bank lawsuit from 2008 was clearly intended to negotiate a new loan repayment agreement, the TrumpNation lawsuit was most likely intended to intimidate the publisher and author into pulling their books, and the numerous lawsuits against Palm Beach County in the 90's were to let him bypass existing restrictions and do whatever he wanted with his property.
To be fair, Trump is far from the only person who has used litigation in this way. In fact, this practice is so widespread that it's been given a name— Strategic Lawsuits Against Public Participation (SLAPP). According to California lawyer Aaron Morris, this term refers to a lawsuit where the plaintiff "does not care whether [they] win the lawsuit" and is only interested in getting the defendant to give up due to "fear, intimidation, mounting legal costs or simple exhaustion."
Weaponized litigation has become a major problem that threatens the integrity of America's legal system, but the good news is that many parts of the country offer anti-SLAPP legislation. This means that successfully identifying legal action taken against you as a SLAPP in these states can have the case thrown out and harshly punish the plaintiff for their abuse of the system.
This isn't a perfect solution to the problem; many states still don't have anti-SLAPP laws and there's no legislation for it on the federal level. However, it can make it easier to conduct business and criticize public figures in anti-SLAPP states without worrying as much about unfair legal repercussions.
---
The most obvious lesson that can be learned from Trump's legal history is that you can weaponize lawsuits for your own ends.
---

Settlements Can Be Victories
When considering just how painful and exhausting lawsuits can be on both your mind and your wallet, it's usually in the best interest of everyone involved to wrap them up as quickly as possible. It's tough to find sources with concrete statistics, but a 2009 study published in the Journal of Empirical Legal Studies found that the settlement rate of all legal disputes in one district was close to two-thirds.
With that being said, the general consensus among legal professionals is that it's often a better idea for individuals involved in litigation to push for a settlement over a trial verdict. Settlements can be seen as victories in their own right, since they can end an otherwise painfully drawn-out courtroom battle with a compromise. But what does Donald Trump think about ending lawsuits with a settlement?
When looking at Trump's history of lawsuits as outlined by USA Today, roughly 6% of them were settled. Although this doesn't quite match Trump's constant boasts that he "never settles," it does demonstrate that he's less willing to settle his legal battles when compared to the average. And in many of the instances where he did settle —like when dealing with Palm Beach County in the 90's and Deutsche Bank in 2009— it ended in an agreement that was favorable to him. However, many of the settlements outlined above were victories for the other party, as can be seen with the cases of Central Park South and the Trump University lawsuit. Either way you look at it, the fact remains that settling can be favorable to reaching a verdict in many cases.
---
Whether your case gets thrown out, settled, or brought to trial and given a verdict, the effects of a lawsuit —and all the sensitive information it leaves behind in legal records— can follow you for the rest of your life.
---
Verdicts Aren't Always the End
Yet another reason why lawsuits can be such a nightmare for everyone involved is that they can stick around. Even when a verdict or a settlement is reached, one party can attempt to appeal the results of the case to a higher court. But even in situations where the results stand and neither side pursues an appeal, information that comes to light in the case can be grounds for another one— so long as it doesn't violate an assertion of res judicata.
This is perhaps the most significant and important lesson that can be learned from Donald Trump's long history of lawsuits. During his 2016 term as President, Trump has been under nearly constant legal scrutiny regarding his past and present actions.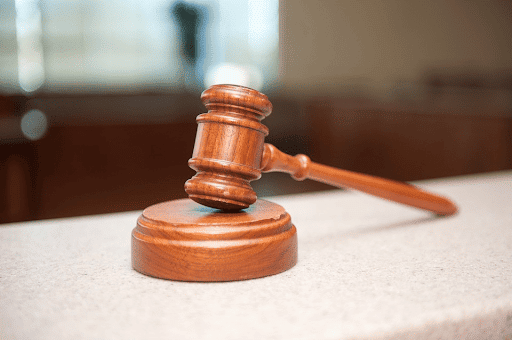 Look at how Cohen taking a plea deal during the Stormy Daniels hush agreement controversy led into the attorney general issuing subpoenas to Deutsche Bank and Capital One. Now consider how willing Deutsche Bank is to work in Trump's best interests after he sued them over his unpaid debt just ten years earlier. Even during the run-up to his presidential term, allegations of Trump's civil rights violation in the 70s and harassment of Jill Harth in the 90's were used as points of attack by his political opponents.
Ultimately, if you believe that you've been wronged and the only way you can settle it is through a lawsuit, it's very important to understand this point. Whether your case gets thrown out, settled, or brought to trial and given a verdict, the effects of a lawsuit —and all the sensitive information it leaves behind in legal records— can follow you for the rest of your life.
---
It's often a better idea for individuals involved in litigation to push for a settlement than a trial verdict. Settlements can be seen as victories in their own right, since they can end an otherwise painfully drawn-out courtroom battle with a compromise.
---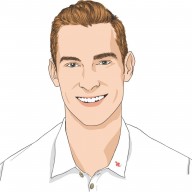 Bryce Welker is an unstoppable force in the worlds of business and education. He's a dynamic speaker, expert blogger, and a regular contributor to top-tier publications like Forbes, Inc.com, Business.com, and AccountingToday.com. With a proven track record of founding over 20 innovative test prep websites, Bryce has helped countless students and professionals pass their certification exams and achieve their dreams. Whether you're seeking career advancement or educational success, Bryce Welker is the ultimate guide to help you get there.