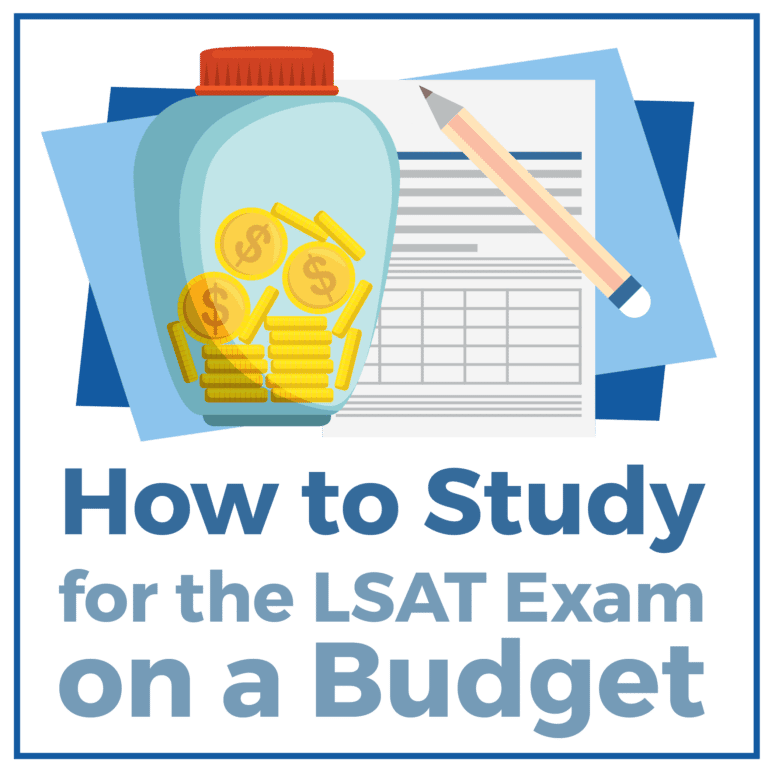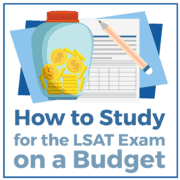 Law school is expensive. In fact, it's expensive even before you get there! Between the cost of multiple expensive law school applications, paying for the LSAT multiple times, and trying to come up with a plan to pay for tuition, the thought of paying for an LSAT study course may simply be out of reach. This is especially true when you consider that most law school applicants are broke college students. 
If your dinner meals more often involve ramen than filet mignon, here's how to study for the LSAT and not break the bank!
[sc name="top-lsat-courses"]
Consider a Cheaper Study Course
The cost of a live LSAT class is around $1,700, but some courses go as high as a whopping $8,750! However, one way to quickly slash the cost of studying is to take an online class instead of a live one.
If you think about it, you don't really need someone in-person to help you study. Taking an online course can easily save you between $500 and $800, depending on the program.
A low-cost LSAT prep course we recommend checking out, is Magoosh. For less than $250 you'll get all the materials you need in an on-demand format so you can study anytime and anywhere.
Learn more about Magoosh LSAT here. 
Furthermore, you get the same amount of instruction time and there may be tools that let you isolate certain sections of the test to study for. An extra bonus: you study based on your own schedule, so if you need to work, take finals or take care of other responsibilities, you can do it without sacrificing your study time. 
These courses often come with audio and videos that you can watch time and time again. Additionally, they may have helpful tools that help you track your score and isolate your weak points.
Some onsite or online programs offer two-week or weekend courses that can help you immensely in a condensed period of time. Even better: they are usually at a fraction of the cost of the full program.
Another option is to check with your career services department at your college to see if there are programs that your university offers. These may be cheaper or may give you a discount if you are already a student.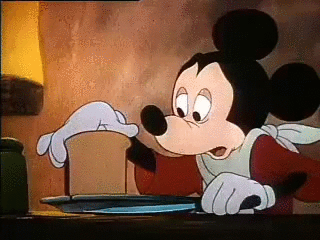 Use Free LSAT Resources
With the advent of the web, you can access incredible (and free!) resources online. Some options you should definitely check out include:
Free LSAT tests – The Law School Admission Council (LSAC) publishes old,

official tests

. Search for them and use these to take free practice tests.

Free LSAT courses – LSAC partnered with Khan Academy to offer a

free LSAT preparation course

. You can also find a

free Alpha-Score LSAT prep course

. 
Ultimately, this step might take a little bit of legwork. However, using free resources can help you subsidize other law-school related costs. 
Also, don't rule out old-school options. Many libraries have LSAT prep books available to check out or use in the library. Some might even have arrangements with test prep companies, so check out your local library for available options.
One Reddit user reported scoring a 167 on the first try after using five LSAT prep books and 20 practice tests all available from the local library.
If your older sibling, best friend or neighbor took the LSAT, check if you can borrow study materials or old course information for free. 
It's usually best to supplement your free options with other items you pay for, like a course or study materials.
[sc name="lsat-related-articles"]
Purchase Old LSAT Tests
Taking old LSAT tests is a great way to study for the LSAT. Furthermore, it can also help you identify your weak areas. You can purchase a set of 10 old tests and answer keys for less than $20.
There are also several other supplemental books that you can use. Sometimes, the LSAC uses the same question that appeared on a previous test. Therefore, taking an old test can help you recognize the question and answer it correctly. 
Take at least one timed practice tests before delving further into your studies. This will give you a baseline on your current score so you can measure your progress and identify your weak areas.
Purchase Used Study Materials
With approximately 37,000 first-year law school students, there is no shortage of students – or the study materials that they recently used. Save yourself a few bucks by purchasing their leftover goods and slash the retail cost of these study materials. 
Ultimately, there are a ton of other LSAT study books that provide a comprehensive overview of the LSAT or that focus on a specific section. However, the books listed above are sworn by many law school students.
Get a Discount
For most online purchases, you can get a discount by simply looking for a promo code. This is true for LSAT prep courses and books. Additionally, some prep companies offer discounts for members of certain associations, such as alumni associations or trade organizations. Others provide corporate discounts, and some even offer need-based scholarships. 
Don't feel like the rate published on a website is set in stone. Contact the prep company and ask about any possible discounts. Tutors may also offer a discount if you sign up for a package deal, commit to a certain number of tutoring hours, or refer others to them.
Remember, the worst that can happen is that the person or company says "no," and then you're just back to the originally-listed price. Essentially, the best that can happen is you save some major bucks just by having the courage to ask.
Check Out Local Options
You might have some other options that can provide you with significant savings on your LSAT preparation. Depending on your location, you might be able to get help from the following:
State, county or local bar associations – Some bar associations offer annual LSAT courses for free or discounted rates.
Law schools – Local law schools often have LSAT prep workshops and practice tests available online or onsite. 
Community colleges – Many community colleges offer free or inexpensive LSAT prep classes on their campuses. 
Community centers – You can check with your local community center to see if they offer an LSAT prep course.
GI Bill – Some programs have received clearance from the Department of Veterans Services to accept funding from a GI bill.
By doing a little bit of research, you might be able to find a great lead on an affordable LSAT prep option. Another way that some students use to cover costs is by using their government stimulus checks. 
[sc name="lsat-discounts"]

How To Set Up an LSAT Study Plan
All the books in the world won't do you a bit of good if you don't open them! Once you have all of your necessary supplies in place, create a tailored study plan. If you don't know where to start, you can purchase inexpensive study schedules for about $20 for durations of 10 weeks to 6 months in advance of the LSAT. You can also check out our free study schedules; these give you more structure and an attack plan.
Learn Your Weak Areas
An effective way to drastically decrease the amount you pay for LSAT test prep is to determine your weak areas. By doing this, you can focus on improving your scores on your own by using your own resources (more on that below).
You can then devote your budget for extra help in your weak areas. This may mean working one-on-one with a private tutor in just those sections or purchasing books focused on these areas. Additionally, some online courses are geared to particular parts of the test.
Learn from Your Mistakes
Don't just take a bunch of LSAT tests and look at your scores. Delve into the test answers and see why certain answers were incorrect. Thoroughly read over the explanations in your test books. Also, read over any questions that you weren't sure about but technically got correct. These explanations can help reinforce concepts and help you identify patterns in what you're getting wrong so that you can fix them.
Keep Track of Your Progress
So that you spend your time (and money) on the areas that need the most help, it's important to keep track of your progress. Use an organization or tracking feature with your online prep course, an Excel sheet, or simple pen and paper to track your scores over time. This will give you important data and tell you if you are improving on certain sections, remaining stagnant, or getting lower scores. Use this data to inform your purchasing decisions.
---

Get Real with Yourself
Before you spend a dime on a self-study plan, really think about yourself, your strengths, and your weaknesses. Are you really able to devote solid study time that is not specifically structured around a course? Remember, in addition to actually studying, it will take some time and research to learn how to study for the LSAT, and then create a study schedule. 
Are you a self-starter, or do you need someone encouraging you along? How much time do you really have to devote to studying? Are you a visual or audio learner? Will courses geared for these learning styles help you retain more information than simply reading from a book? 
If you will not follow through with your budget-friendly plan, it might be worth re-assessing whether you can afford a more structured class. Try asking friends and family for financial help, taking on a part-time job, or rolling the cost into your student loans. Alternatively, if you don't have a problem with setting up your own schedule and study plan, you can cut thousands of dollars off of the cost of LSAT prep.
Take the Next Step
Now that you have several viable plans for fitting your LSAT study into your budget, you can get started on your LSAT preparation. Also, check out more ideas, reviews and free information to get you ready for test day on our blog.
Compare the Best LSAT Prep Courses!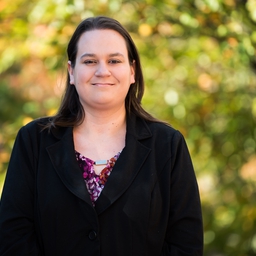 Valerie Keene is an experienced lawyer and legal writer. Valerie's litigation successes have included wins for cases involving contract disputes, real property disputes, and consumer issues. She has also assisted countless families with estate planning, guardianship issues, divorce and other family law matters. She provides clients with solid legal advice and representation.