RATING: ★★★★★
BluePrint LSAT Prep specializes in LSAT test prep unlike many of the other LSAT review companies out there. This allows Blueprint to give you a course that not only helps you achieve your goal score, but also keeps you engaged throughout the lessons and practice questions. If you are like so many of the other students out there that find it difficult to stay motivated, Blueprint is a great LSAT course for you!
Overview of BluePrint LSAT Prep
With Blueprint, you can study with the many tools that include textbooks, videos, and adaptive learning. Unlike many competitors, Blueprint has new elements to the traditional online prep course model that are both fun and allow you to take your studies on the go. These include memory tools, logic games, humorous lessons with animated explanations, and a scoreboard that keeps you competitive.
The study material is divided into small, easy-to-memorize segments, making it especially useful if you struggle with traditional ways of learning a large body of information. Blueprint is integrated with adaptive learning software that will eliminate any unnecessary study time. You will also have access to a study buddy who answers your questions via email.
BluePrint LSAT Review is making a colorful name for itself in the monotone world of LSAT Prep. Let's look at all this course has to offer and decide how fun it can really be, and most importantly if its the right course for you!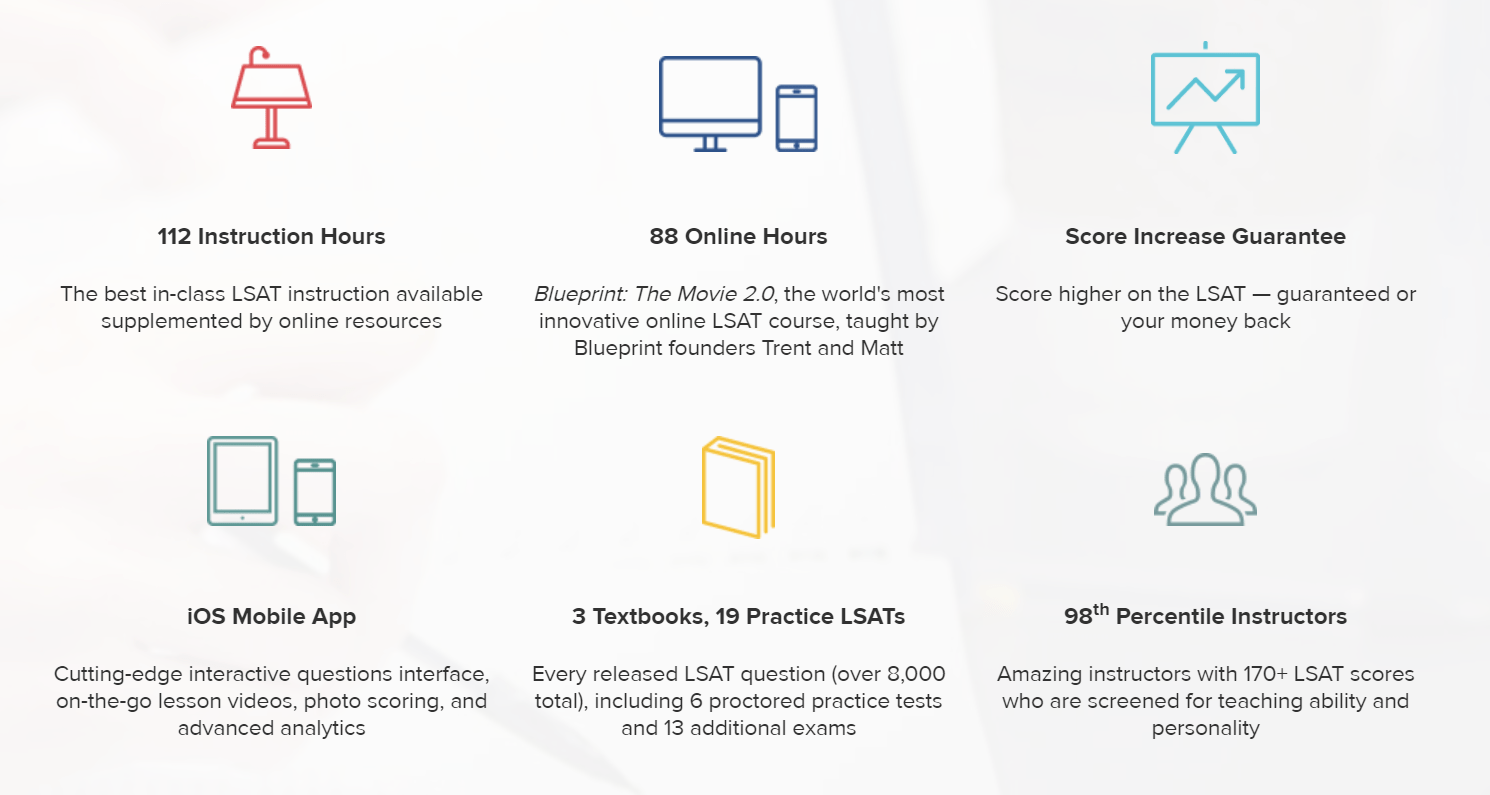 Course Snapshot (Blueprint LSAT Materials):
2 Textbooks
10+ Practice LSAT Exams
Over 8,500 LSAT practice questions
In-depth explanations to practice questions
88 Hours of video lessons taught by 99th percentile instructors
Logic and memory-based games
24-Hour email support from veteran instructors
Online resources/app that lets you study on the go
10 Day satisfaction guarantee
LSAT Practice Questions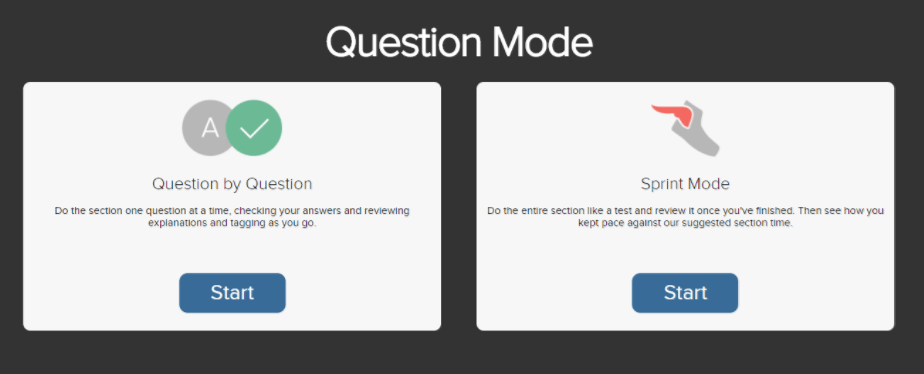 You get access to every LSAT question ever released in your practice questions with Blueprint. These practice questions are also adaptive, meaning the software tracks everything from your answered questions. This will allow you to really hone in on what you are missing and why. This is used to not only give you homework questions tailored to your current level but to also let you see your weaknesses and strengths.
My favorite part about Blueprint LSAT Review is the gamified learning model. The whole course is interactive and engaging. The videos are humorous, but the point system of the practice questions is perfect for you if you like to stay competitive.
Basically, if you get a question right you get points. If you do so quickly, you get even more points. If you answer more than one right in a row, well then now you are on a hot streak and get even more points! I know a lot of competitive students that love this way of study because it keeps them motivated.
LSAT Practice Exams
With your Blueprint LSAT review course, you will have the latest practice tests set aside from your practice questions for you to use as extra exams. All the other practice exams can be used for homework or you can make customizable ones from the questions bank.
Video Lessons
Blueprint really focuses on bringing entertainment to your education with its video lessons. Blueprint: The Movie 2.0, the official name of the video lessons, is streamed in HD and is entirely taught by Blueprint founders Matt Riley and Trent Teti.
All of the videos are fully animated and have added humor. I really enjoyed how you don't have to sit through long, boring videos or webcasts. Instead, each video is fast-paced, engaging, funny, and will keep your attention. The animations illustrate concepts that help promote memorization and will help you if you are a visual learner.
Dashboard & User Experience
When it comes to an easy to use LSAT prep course, look no further! Blueprint's interface is clean and the menu bar makes it easy to navigate throughout the course. Throughout your studies, you'll find it easy to make your course your own. Cross off answers as you practice or tap on the hint provided. You can even see how many people said each answer and you can see an explanation for the whole question or just read under each choice why it was wrong.
With the "Law School Compass" feature, you can set up a profile that will help calculate how likely you are to be accepted to a particular law school. Thanks to Blueprint's analytics that monitor your progress and identify your strengths and weaknesses, your personal "Law School Compass" can gauge your chances of getting into a specific law school. This gives you valuable insight into how they stack up against their peers, and how to determine their target LSAT score for admission to specific schools.
Customer Support
When you get Blueprint LSAT Review, you get access to study buddy which is the email support line. Any question can be submitted and one of Blueprint's veteran instructors will get back to them within 24 hours. Blueprint only hires tutors who have scored 170 or higher themselves. If you have a question that is pretty common, Blueprint most likely already has the explanation provided.
Course Access
When you purchase Blueprint LSAT review, you will have access to the full online course and all of the amazing resources included.
Who is BluePrint LSAT Review Best For?
The ideal user for BluePrint LSAT Review would be someone who likes a little extra motivation to get studying. BluePrint does this well with the charismatic and funny instructors and by adding a competitive edge on to your study schedule with the gamified practice questions.
Blueprint will appeal to visual learners who are looking for a course that will grab their attention. Students can choose between 112 hours of traditional in-class instruction (available in certain locations), and the 88-hour online course. The entertainment value of the online course is unlike any other LSAT test prep delivery we've seen. In the online course, a.k.a. Blueprint: The Movie 2.0., the founders deliberately set out to make studying for the LSAT as entertaining as watching a TV show.
Students who dread watching and listening to hours of boring LSAT explanations and lessons will prefer this version by far. The online videos are streamed in HD and feature professional animations that appear all around the instructor to liven up the lesson and to illustrate concepts. Many users will also appreciate the flexibility of studying on the go with the iOS app, which features an interactive questions interface, video lessons, photo scoring, and advanced analytics to measure progress and provide additional feedback.
Even visual learners who choose the in-class course will benefit from the unique design elements of the textbooks, in addition to having full access to the online course material. Visual learners will appreciate that information and approaches to solving questions are laid out in a series of easy-to-read graphics. Flowcharts demonstrate how to progress through each type of question in a way that was deliberately chosen to simplify and support the learning process.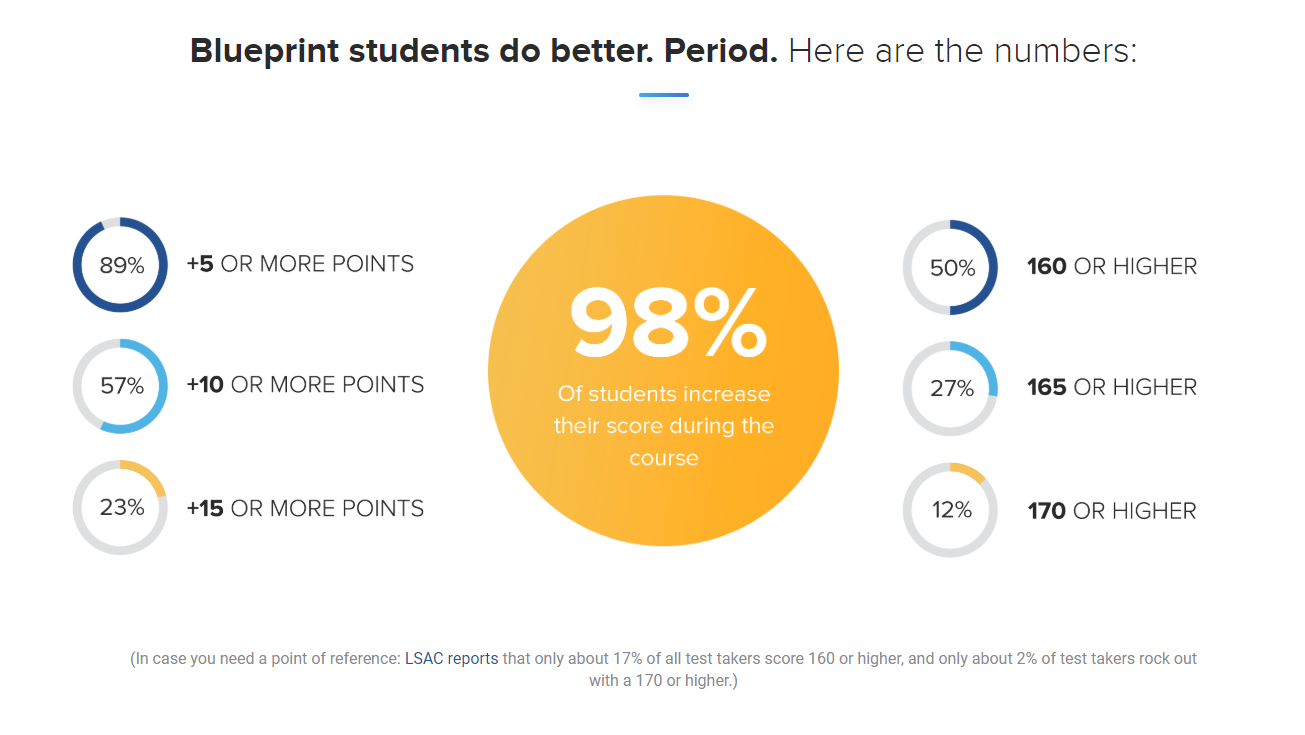 My Suggestion
Blueprint's unique and animated video lectures, paired with their self-study tools, such as the mobile app, analytics, textbooks, and timer, make the Online LSAT Course ideal for students who prefer to avoid a traditional classroom environment. The course is interesting and includes all the elements you will find on the actual LSAT.
Logic and memory tools make learning more fun, while traditional explanations and tutorials ensure that you get everything you need from the course. Students who take a in-person LSAT Course will have access to Blueprint's many online resources in addition to the traditional classroom prep sessions as well as increased access to instructors.
Summary of BluePrint LSAT Strengths
1. Free Preview
Blueprint offers a free and detailed look at training materials on its website. You can watch some of the sample videos or take the extended free tour to explore the unique approach to LSAT prep, Blueprint: The Movie 2.0. Work through five different chapters from various lessons to see what you can expect from this course.
2. Interesting Videos
You won't have to suffer through long, boring videos or webcasts if you choose Blueprint. Each video is fast-paced, engaging, funny, and will keep your attention. The animations will help visual learners by illustrating concepts in ways that promote learning. Most videos are short enough to make memorization of key points a breeze.
3. Variety of Features
In addition to more than 80 hours of video lessons and tutorials, you'll get a variety of extra materials and learning tools, including five textbooks, an iOS app for studying on the go, practice tests, logic and memory-based games, and in-depth explanations of questions.
4. Analytics
Blueprint's analytics monitor your progress, identify your strengths and weaknesses, and gauge your chances of getting into a specific law school. The "Law School Compass" feature allows you to set up your profile and uses your score results and additional information you provide to calculate how likely you are to be accepted to a particular law school. This gives students valuable insight into how they stack up against their peers, and how to determine their target LSAT score for admission to specific schools.
5. Tutoring Available
Blueprint offers tutoring with their courses for an additional fee. The company only hires tutors who have scored 170 or higher themselves, and tutoring sessions are conveniently held over Skype. Tutoring sessions can be purchased in packages of either 30 or 60 hours.
Summary of Cons
1. Video Sync Issues
On occasion, the audio is out of sync with the video in the tutorials and video lessons. This isn't a huge issue, because a time lag of a few seconds does not affect overall comprehension. Still, it can be distracting to watch the lecturer speak while audio is delayed. Still, many of the videos are perfectly synchronized.
Depending on the speed your internet connection, this may or may not be a problem. The constant animations that pop up all over the place might distract some learners as well. Either way, we recommend that you test drive the trial version on their website first.
BluePrint LSAT Pricing
Online Course
Price: $249/month
Delivery: Online video lessons, explanations, and study materials; iOS mobile app
112 hour Classroom Course
Price: $1,399
Format: In-Class Instruction (various U.S.locations); access to all online course material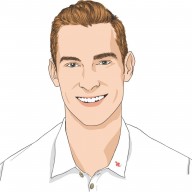 Bryce Welker abandoned his career as an accountant to start his own business as a test prep thought leader. He has harnessed his knowledge of all the top prep courses for multiple professional certifications to form Crush Empire, a collection of websites dedicated to teaching students how to pass the PMP, LSAT, BAR, and many more accreditation exams.