RATING: ★★★★★
BluePrint LSAT Prep course prepares law students for their exam in a different way than most other companies. These prep courses not only help you achieve your goal score, but also keeps you engaged throughout the lessons and practice questions. On average Blueprint LSAT Students see a staggering 15+ point score increase.
If you are like so many other students that find it difficult to stay motivated, Blueprint is a great LSAT course for you!
---
Overview of BluePrint LSAT Prep
With Blueprint, you can study with textbooks, videos, and adaptive learning technology. Unlike a traditional online prep course, Blueprint's study materials are both fun and allow you to take your studies on the go. You can expect memory tools, logic games, humorous lessons with animated explanations, and a scoreboard that keeps you competitive with other LSAT students.
The study material is divided into small, easy-to-memorize segments, making it especially useful if you struggle with traditional ways of learning. The planner you use to access these materials can be customized to your liking thanks to a one-of-a-kind user interface.
Additionally, Blueprint is integrated with adaptive learning software that will eliminate any unnecessary study time. You will also have access to a study buddy who answers your questions via email.
BluePrint LSAT Review is making a colorful name for itself in the monotone world of LSAT Prep. Let's look at all this course has to offer and decide how fun it can really be— and most importantly, if it's the right course for you!
---
LSAT Practice Questions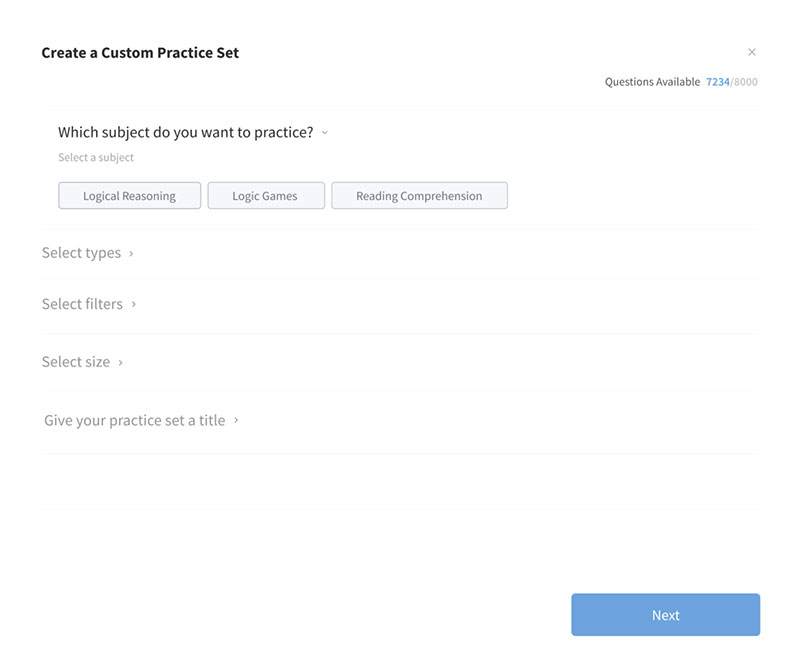 According to Blueprint, their library of practice questions includes every official LSAT question ever released to the public. These practice questions are also adaptive, meaning the software will choose harder or easier questions to guide each of your study sessions in a productive way. This is what allows you to really hone in on what you are missing without wasting unnecessary time.
My favorite part about Blueprint LSAT Review is the gamified learning model. The whole course is interactive and engaging. The videos are humorous, but the point system of the practice questions is perfect for you if you like to stay competitive.
Basically, if you get a question right you get points. If you do so quickly, you get even more points. If you answer more than one right in a row, now you're on a hot streak and get even more points! I know a lot of competitive students that love this way of study because it keeps them motivated.
---
Blueprint's LSAT Prep Course Practice Exams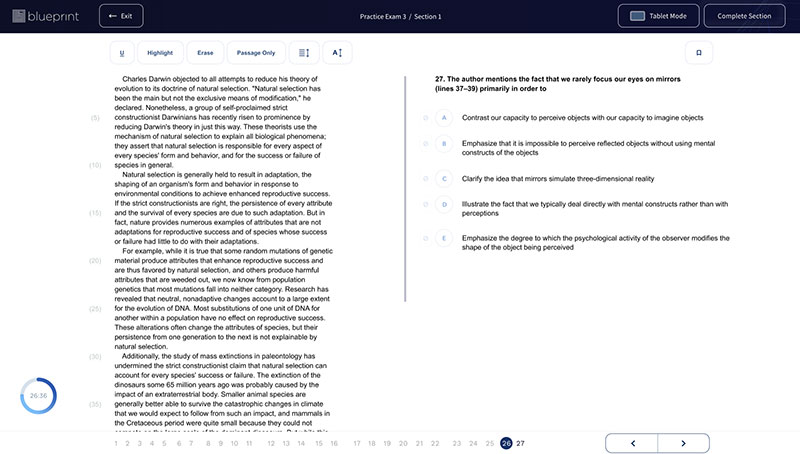 With your Blueprint LSAT review course, you will have the latest practice tests set aside from your practice questions for you to use as extra exams. All the other practice exams can be used for homework; alternatively, you can make customizable ones from the questions bank.
---
Video Lessons
Blueprint really focuses on bringing entertainment to your education with its video lessons. Every lesson is streamed in HD and is taught by highly qualified instructors. In fact, each teacher is in the 99th percentile for the LSAT exam!
All of the videos include animated content and have added humor. I really enjoyed how you don't have to sit through long, boring videos or webcasts. Instead, each video is fast-paced, engaging, funny, and will keep your attention. The animations illustrate concepts that help promote memorization and will help you if you are a visual learner. Plus, they easily break down complicated concepts into more understandable terms.
---
Dashboard & User Experience
When it comes to an easy to use LSAT prep course, look no further. Blueprint's interface is clean and the menu bar makes it easy to navigate throughout the course.
Throughout your studies, you'll find it easy to stay on top of your study schedule. Cross off answers as you practice or tap on the hint provided. You can even see how many people said each answer and you can see an explanation for the whole question or just read under each choice why it was wrong.
With the "Law School Compass" feature, you can set up a profile that will help calculate how likely you are to be accepted to a particular law school. Thanks to Blueprint's analytics that monitor your progress and identify your strengths and weaknesses, your personal "Law School Compass" can gauge your chances of getting into a specific law school. This gives you valuable insight into how they stack up against their peers, and how to determine their target LSAT score for admission to specific schools.
---
Customer Support
When you sign up, you can communicate with your teachers outside of the lectures through live online office hours. Feel free to ask questions and receive a swift response from your instructor.
Remember: Blueprint only hires staff who have scored 170 or higher on their LSAT tests in order to ensure all their information is accurate!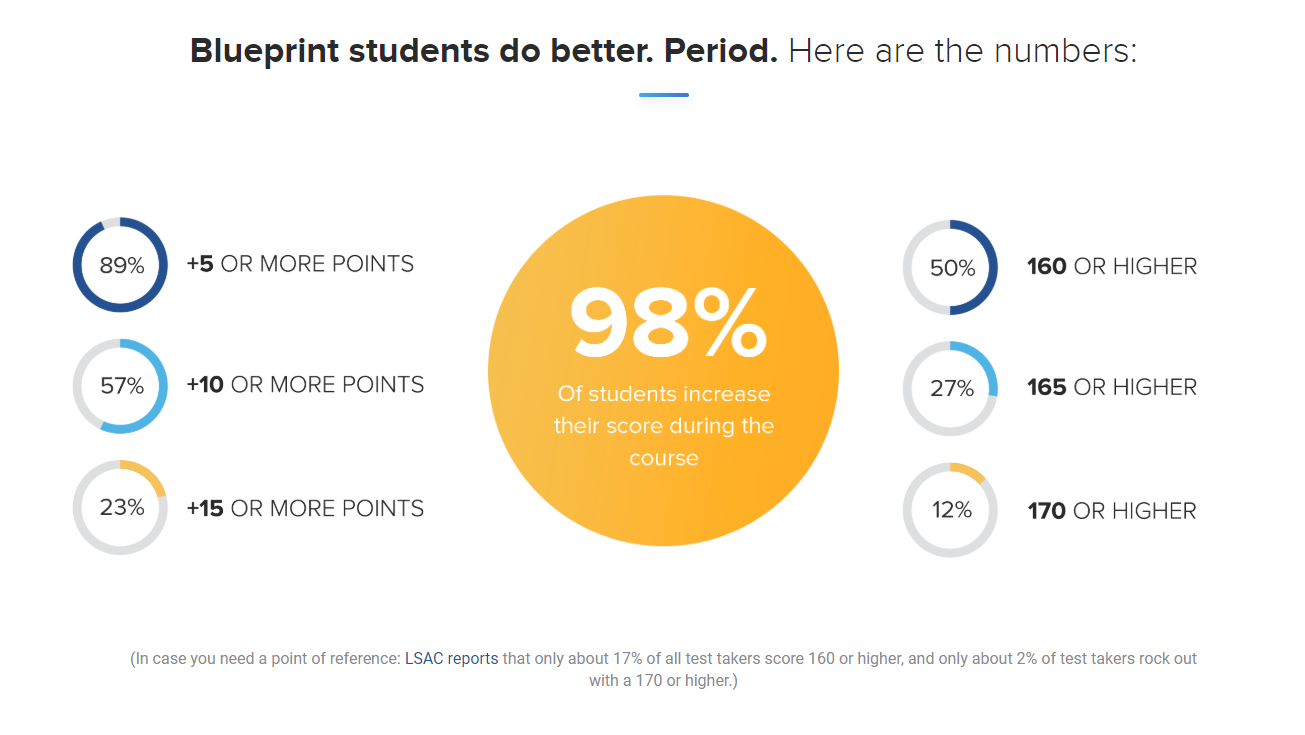 ---
Course Access
When you purchase Blueprint LSAT review, you will have access to the full online course and all of the amazing resources included. However, different packages will offer different lengths of time when you can access these study materials.
If you're trying to cram for your LSAT exam at the last minute, you may prefer Blueprint's 3-month plan. However, I recommend that you sign up for the 6-month or 12-month plan instead, since this will ensure you have enough time to actually cover the whole test!
---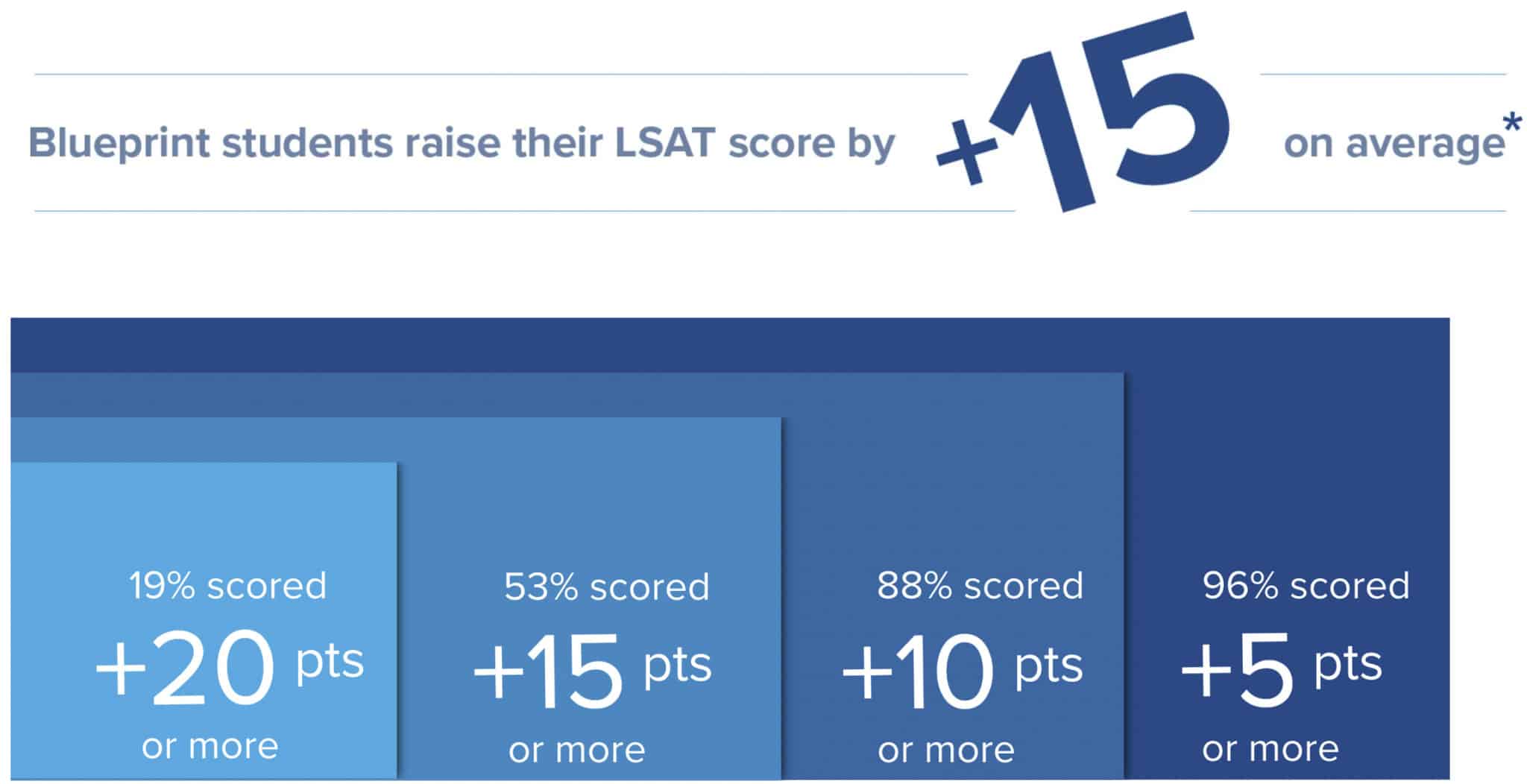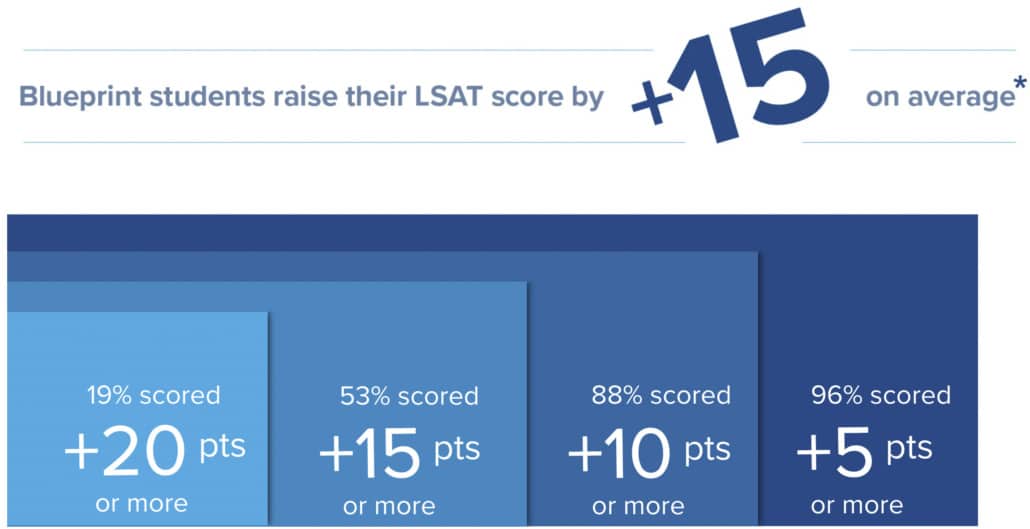 Who is BluePrint LSAT Review Best For?
The ideal user for BluePrint LSAT Review would be someone who likes a little extra motivation to get studying. BluePrint does this well with the charismatic and funny instructors and by adding a competitive edge on to your study schedule with the gamified practice questions.
Additionally, Blueprint will appeal to visual learners who are looking for a course that will grab their attention. Blueprint students can choose between live digital classrooms or a self paced online course. The entertainment value of the online course is unlike any other LSAT test prep course we've seen. Blueprint staff have deliberately set out to make studying for the LSAT as entertaining as possible in both course formats.
Students who dread watching and listening to hours of boring LSAT explanations and lessons will prefer this version by far. The online videos are streamed in HD and feature professional animations to liven up each lesson and illustrate concepts. Many users will also appreciate the flexibility of studying on the go on their mobile device, because all of Blueprint's course features are mobile friendly.
Even visual learners who choose the in-class course will benefit from the unique design elements of the textbooks— in addition to having full access to the online course material. Visual learners will appreciate that information and approaches to solving questions are laid out in a series of easy-to-read graphics. Flowcharts demonstrate how to progress through each type of question in a way that was deliberately chosen to simplify and support the learning process.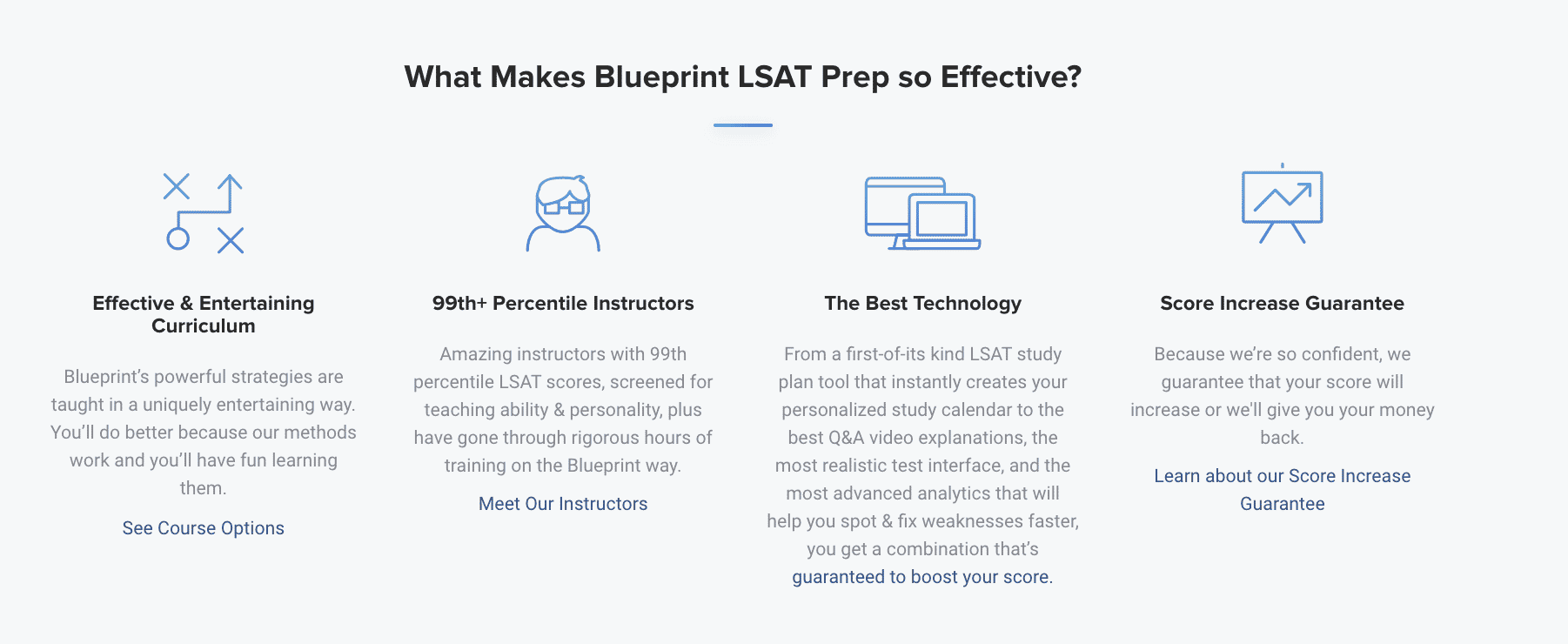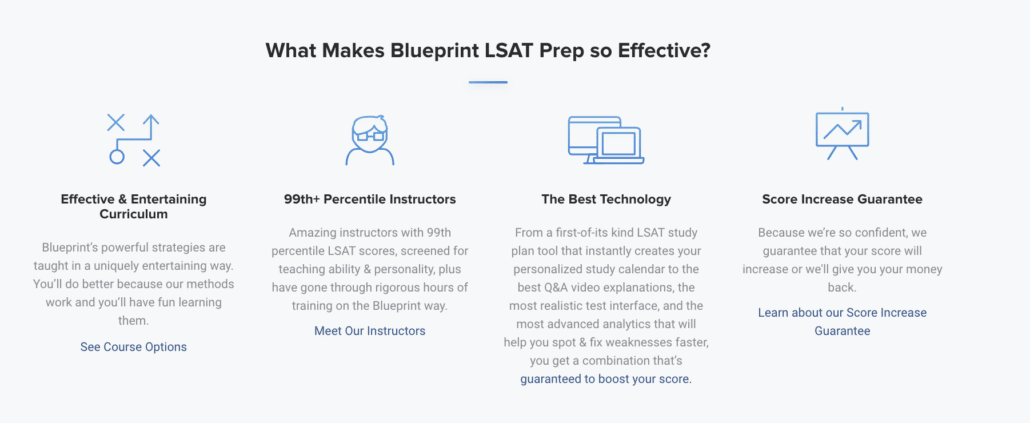 My Suggestion
Blueprint's video lectures, mobile app, analytics, textbooks, and more, combine to create an online LSAT Course that's perfect for students who prefer to avoid a traditional classroom environment. The course is interesting and includes all the elements you will find on the actual LSAT.
Logic and memory tools make learning more fun, while traditional explanations and tutorials ensure that you get everything you need from the course. Also, Blueprint students who take a live online LSAT Course will be able to use their many self study resources in addition to increased access to instructors.
---
Summary of BluePrint LSAT Pros & Cons
---
BluePrint LSAT Pricing
Online Course
Price: $299/month; discounted with 3, 6, or 12 month bundles
Delivery: On demand video lessons, explanations, and study materials; mobile friendly
170+ Course
Price: $2,199
Format: Digital instruction led through the Blueprint website; access to all online course materials
Live Online Classroom Course
Price: $1,499
Format: Digital Instruction through the Blueprint website; access to all online course material
Tutoring
Price: $2,599 – $5,749 (Core), $3,999 – $9,999 (Premium), $2,199 – $5,249 (Supplementary)
Format: Learning Modules, Practice Exams, Extra Help
---
Final Recommendation
This is the best fit for most LSAT students, but it's an even better choice if you're sick of traditional online courses and want to be engaged with your curriculum.