The Law School Admission Test (LSAT) results for a student looking to enroll in the institution of their dreams are an important distinction that admissions offices take seriously. Especially for the foreseeable future — where most application processes will probably have to take place remotely — LSAT scores may have a greater weight in the world of admissions.

So how do students ensure they're setting themselves up for success and earning their highest score possible? Much like any great plan of action, it all comes down to preparation:
It should come as no surprise then that choosing the right LSAT prep course for your personal preferences and goals is more important than ever. So keep reading for a deeper dive into two of the best LSAT prep courses available on the market today. Check out an analysis of their standout (and less than stellar) aspects. We've done the legwork and are ready to pass our findings on to you!
---
See the Top LSAT Review Courses
Blueprint LSAT Prep Course ◄◄ Best Overall LSAT Review Course
LSATMax LSAT Review Course  ◄◄ Higher LSAT Score Guarantee +  
The Princeton Review LSAT Review Course ◄◄ Quality Study Materials
---
Overview of The Princeton Review vs. Kaplan
Prior to jumping into the specifics of each platform's LSAT Prep, check out these brief introductions:
Princeton Review LSAT Prep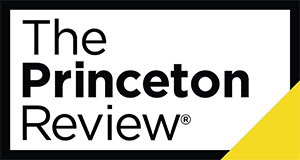 There's one thing to know about The Princeton Review that sets them apart from other LSAT prep course providers— they are truly in your corner. The overall goal of this prep company is to help students obtain goals and complete objectives that serve to help them gain admission to their school of choice.

In addition to producing some of the greatest LSAT prep courses on the world wide web, The Princeton Review has also sold over 35 million books to date. Additionally, they hold 5,000 on-demand tutoring sessions per night and have helped 96% of their students improve their grades.

Still not impressed? Consider the following:
The Princeton Review touts an impressive success rate of 4 out of every 5 of their students into their school of choice, and 96% of their admissions counseling students have provided overwhelmingly positive feedback on their services. After over 35 years of business, it's clear that this company has developed a formula for excellence that continues to educate and empower students to this day.
Kaplan LSAT Prep Course

Our next contender in this bout for LSAT prep prowess is Kaplan. They've been in the business of private tutoring and organizing prep classes for over 80 years, using this time to perfect their approach. In addition to their LSAT prep courses, Kaplan also offers study plans for more than 120 different tests. This test prep company continues to bring the latest in test prep to 2.1 million people per year, validating their decades of experience and persisting excellence.
---
Kaplan vs. Princeton Review: LSAT Prep Course Content
The Princeton Review
The Princeton Review's LSAT prep courses are intelligently crafted in order to accommodate different styles of learning. For example, they have review courses for self-paced learning online, in-person classes, tutoring options that target a specific score, and even a fully customized premium option. Furthermore, the pricing for these courses is as impressive as it is vast.
Students will have access to over 8,000 actual LSAT practice questions with this course, ensuring success on each portion of the exam. Their self-paced online learning package also includes access to over 150 hours of video content. Essentially, The Princeton Review's approach to LSAT prep always emphasizes logic and reasoning, with professors that help you plan the correct approach to different question types.
Additionally, these courses make the most out of your time. While some sites will throw in a lot of fluff or content that feels like filler, The Princeton Review's online courses always feel precise and strategic in their construction, as well as pertinent to each particular area of study.
Kaplan LSAT Review
If you thought The Princeton Review's LSAT prep course features sounded substantial, you'll definitely be impressed by the prep options from Kaplan. Although there's a lot of overlap between these two LSAT review courses, Kaplan actually provides a considerably larger amount of content to their students.

This course allows students to learn at their own pace with live and on-demand courses as well as over 180 hours of additional lessons. They also have instructors available to lend a hand or answer questions, which is an invaluable resource for students that might be newer to the LSAT exam. Furthermore, they provide prep books for additional review when you're out and about, as well as their abundance of full-length practice tests that use actual released questions from past tests.

Lastly, since Kaplan offers tips and recommendations based directly on your performance from their practice exams, they are better able to identify your trouble areas and help you hone your skills. This feature helps students understand where they are , how much further they have to go, and where to focus their efforts on next.
---
Learn More About The LSAT Exam
---
The Princeton Review vs. Kaplan: Guarantees
The Princeton Review
LSAT prep with The Princeton Review comes with a few standard guarantees that you'd find with most prep courses on the market. However, they also offer one guarantee that's exclusive to their higher tiered course:
The Princeton Review offers a LSAT 165+ Guaranteed course option. After all, you'll need to earn an extremely high score on exam day in order to gain admission into a top 25 law school. Consequently, this higher score guarantee is refreshing and really highlights their ability to achieve results. While other providers promise improvement, this guarantee gives you extra peace of mind in securing success.
Kaplan LSAT Class Guaranatee
Kaplan also offers your money back if you don't score higher on your LSAT after taking their course. Furthermore, they establish a baseline score for you at the start of your LSAT prep course by having you take a practice test. If the score on your official exam is not higher than this baseline score, you are able to retake your content and try again. This is an excellent way to structure their score increase guarantee because it demonstrates tangible results.
---
Get Discounts On LSAT Review Courses!
---
The Princeton Review vs. Kaplan: Pricing
The Princeton Review
The pricing scale for The Princeton Review's LSAT prep courses will run you from as low as under $1,000 to the pricier end of their scale at just under $2,000. Additionally, several of their courses are frequently discounted; for example, their 165+ Course will commonly be discounted by around 400 dollars. There's also free content on the site as well, giving you even more value without breaking the bank.
Kaplan LSAT Test Prep
Kaplan differs a bit in their pricing than other prep courses. They do this by offering a la carte options at lower than average costs. The lower end of classes will run you around $600, where the higher end of courses can run you upwards of $1,000. Furthermore, Kaplan also has free content on offer for those looking to test out their LSAT study materials before officially signing up and taking the plunge.
---
Final Recommendation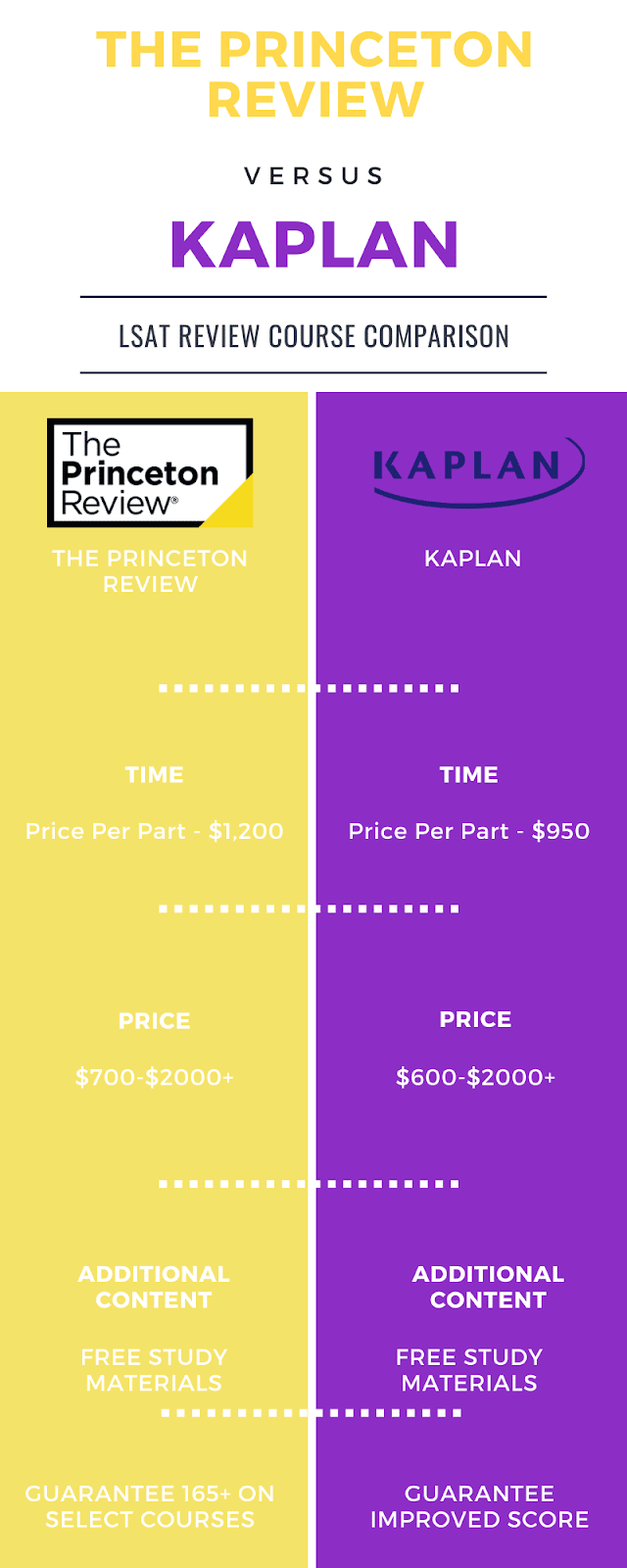 The average student applying for law school has enough on their plate as it is. For that reason, The Princeton Review seems like the preferable choice in this LSAT course comparison. While Kaplan beats out The Princeton Review in terms of content and price, Princeton's approach feels more tailored to helping students excel in the most concise manner possible. Their course options not only aim to improve your LSAT score, but to help you stand out amidst a competitive admissions landscape.