There are many different test prep courses offering educational support for the LSAT exam. Each of them has their own advantages and strong points, but it can be hard to pick one out of all that's being offered. That's because many of them use similar methods and materials but in subtly different ways. Because of that, I've taken a look at two of the most popular courses on the market to see how good they are.
In order to do so I've taken a look at what they two courses have in common and how they differ. Both offer appealing benefits for different students but one of them has a better overall package.
Read on to see how Powerscore's LSAT prep course stacks up against The Princeton Review (TPR)!
---
See the Top LSAT Review Courses
Blueprint LSAT Prep Course ◄◄ Best Overall LSAT Review Course
LSATMax LSAT Review Course  ◄◄ Higher LSAT Score Guarantee +  
The Princeton Review LSAT Review Course ◄◄ Quality Study Materials
---
Price
Powerscore LSAT Review can look expensive at first blush, but is actually quite reasonable. There are three courses options to choose from: In Person, Live Online, and On Demand. Each one offers a specialized experience that's very different from the others. Price wise, In Person and Live Online are the more expensive options at $1595 and $1116. However, the On Demand course is a monthly subscription that only costs $195 a month— making it a great option for a fast working student.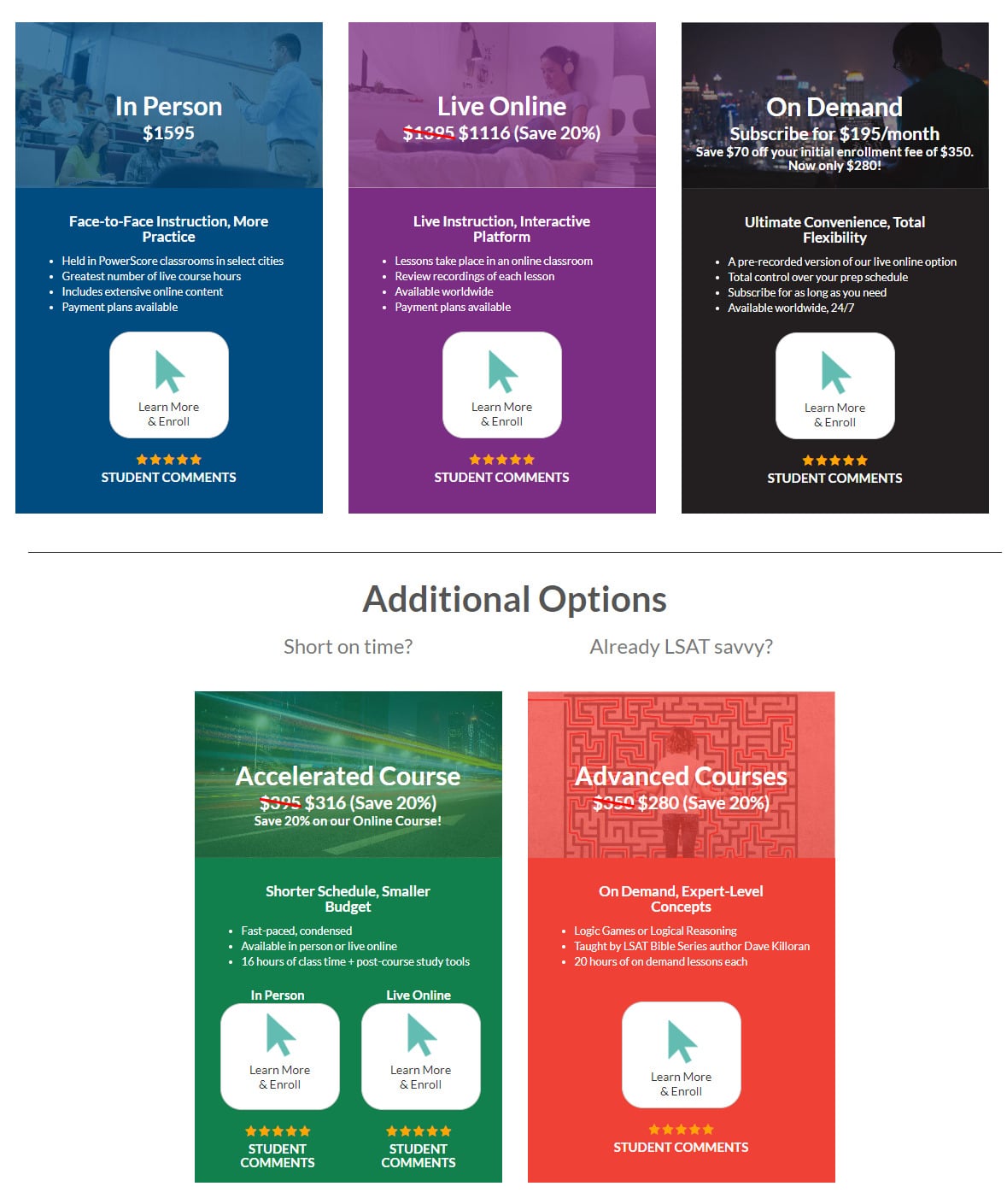 Powerscore also offers two shorter courses: Accelerated and Advanced. These are $316 and $280 respectively and are designed to be much faster paced than the others.
In contrast to this is The Princeton Review's prices. They're a bit more expensive without any shorter options or reduced packages for a lower cost. TPR offers four courses: Self Paced, Fundamentals, LSAT 165+, and Private Tutoring. Each one costs slightly more than Powerscore's options at $799, $1099, $1399, and $1800.
Winner:
Powerscore is the clear winner here when comparing the two prices. Their courses cost less and they also offer inexpensive packages for people who want to save.
---
Learn More About The LSAT Exam
---
Live Content
Both Powerscore and TPR have a heavy focus on live content. But despite the fact that they both feature similar options, only one has any in-person content. Read on to find out more:
As previously mentioned, Powerscore offers both Live Online and tutoring-based content. Their live online course covers over 150 hours of content between both live instruction and supplemental content (such as practice tests). On top of that, each student gains access to weekly LSAT clinics designed to cover a wide range of topics from admissions to test mentality. Taking those will greatly enhance your LSAT score.
But that's not all they offer.
All Powerscore content is also available in select classrooms around the United States. This makes it the perfect option if you learn best in a traditional class setting.
The Princeton Review offers a very similar service. Their courses offer up to 230 hours of learning as well as online drills and practice questions. Furthermore, they use official LSAT content from the Law School Admission Council (LSAC).
While they don't offer a live classroom option, this digital LSAT course does offer its own appealing exclusive content— a one on one coaching course available for students. All things considered, this is an excellent option for anyone who learns well in a focused environment with a tutor.
Winner:
Between the two options, I'd have to say TPR comes out on top. In-person courses are great, but they can't beat out the benefits of a private tutor.
---
All Powerscore content is also available in select classrooms around the United States. This makes it the perfect option if you learn best in a traditional class setting
---
Instructors
Both of these prep courses have a strong focus on good and qualified instructors. Powerscore founder David M. Killoran requires instructors to have scored at least 170 on the LSAT so they can demonstrate a true understanding of the test.
TPR also requires their teachers to be top scorers on the exam. However, all Princeton Review instructors are also highly qualified industry professionals. By combining these traits, they create a highly effective learning environment dedicated to maxing your score on the LSAT.
Additionally, both companies require their instructors to complete a rigorous training course before teaching a class. This program ensures that you'll receive the best instruction possible from a team of highly prepared professionals.
Winner:
Between the two I'd have to say the Princeton Review narrowly wins out in this category. Both courses require a high score and training, but only TPR ensures that their teachers have years of experience in their professional field before hiring them.
---
All Princeton Review instructors are also highly qualified industry professionals. By combining these traits, they create a highly effective learning environment dedicated to maxing your score on the LSAT 
---
Practice Tests
Practice tests are an integral part of both companies' self-study courses. Powerscore offers comprehensive books with practice tests that mimic the LSAT's testing software in order to acclimate you to the experience. Each test will also offer you a breakdown of how you did on each section upon completion so you know what areas to focus on. Plus, they're available on all devices (tablets, phones, computers, etc.)
TPR offers official LSAT content in its six full length practice exams. These exams are proctored and perfectly replicate the test taking experience, right down to the logic games section. Just like Powerscore, these tests also include a breakdown of what areas you need to devote the most time on while using their study guides.
Winner: Tie
These two courses come out pretty evenly in this category. Both of them have similar features and are highly effective, making this a tie.
---
Get Discounts On LSAT Review Courses!
---
Money-Back Guarantee
Almost every course offers a money back guarantee of some sort, typically based on meeting a certain score. The Princeton Review offers score increase guarantees. On top of that, their 165+ course even offers a guarantee that you'll score 165 or higher on the exam. Should you fail to meet these scores, you can repeat the course for free.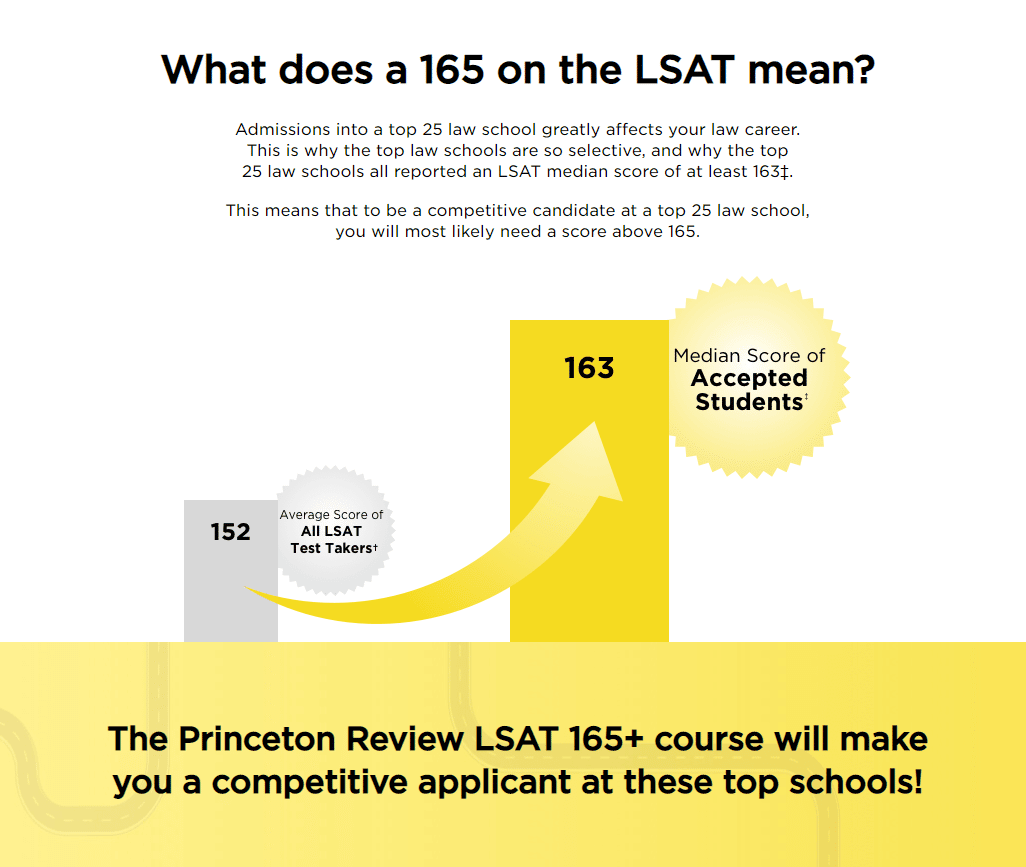 On the other hand, Powerscore doesn't offer a guarantee of any kind— they're confident enough in their materials that they feel it's unnecessary. This decision is most likely valid, but it can still be extremely disappointing to lose that financial safety net when studying.
Winner:
Between the two services, the Princeton Review is the clear winner here. This could've at least been a tie if Powerscore ensured any kind of score increase, but oh well!
Recommendation
In light of everything I've looked at, the Princeton Review appears to be the superior service. Their professionals are more qualified and they even offer one on one tutoring. Plus, they've got a great score increase guarantee as a safety net for all of their students. 
Of course, Powerscore is still a good service for students looking for great LSAT test prep books. It falls just a little bit short of its competitor overall. So make sure to try out the Princeton Review's LSAT courses today!
COMPARE THE TOP LSAT REVIEW COURSES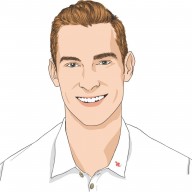 Bryce Welker is an unstoppable force in the worlds of business and education. He's a dynamic speaker, expert blogger, and a regular contributor to top-tier publications like Forbes, Inc.com, Business.com, and AccountingToday.com. With a proven track record of founding over 20 innovative test prep websites, Bryce has helped countless students and professionals pass their certification exams and achieve their dreams. Whether you're seeking career advancement or educational success, Bryce Welker is the ultimate guide to help you get there.