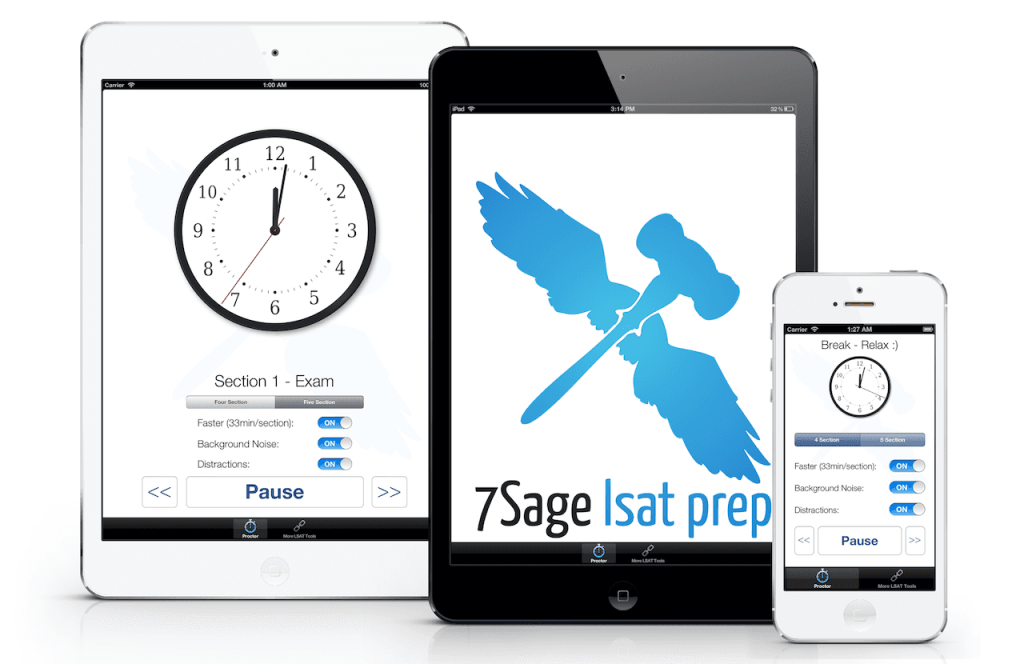 RATING: ★★★★★
Developed by two Harvard graduates, 7Sage offers an affordable LSAT prep course that is notable for its huge library of on-demand learning material, straightforward style of instruction, and low subscription price. One of best options available for students on a budget, 3-month subscriptions start at just $179 and include video explanations for 10 full practice exams.
The course itself is versatile, self-driven, and offers a variety of study material, including tutorial videos, written guides, and explanations for more than 7,000 questions. 7Sage also boasts a unique video playback method, with study options like notes and bookmarks built right into the video watching experience. 7Sage is available on-demand for computers and tablets.
Pros & Cons
Huge Content Library: 7Sage provides online access to 400 lessons, 4,000 practice questions, 50 hours of video lessons, tutorials, 1,000 LSAT printable practice questions, 4,000 questions explained on video, video explanations for 37 LSAT tests, and logic games.
Multiple Subscription Options: Various subscription options make it possible to customize the time frame and the amount of material you wish to study. The most affordable course starts at just $179, with access for 3 months. The most expensive course costs $549 and gives you 12 months of study time.
On-Demand Learning: If you're too busy to attend in-person classes, don't have the funds for a pricey prep course, or if you like to set your own study schedule and can stick with it, then 7Sage is a great option. All study materials are available 24/7, and accessible with an internet connection from your laptop or tablet.
Extensive Tutorials: 70 tutorial videos are designed to help you with everything from navigating the site to figuring out logic games. Take advantage of the detailed written advice on passing and studying for the LSAT. 7Sage offers study tips such as how to study for practice tests as well as advice on what not to do while you study.
Video Customization: One of 7Sage's best features is the ability to customize your video learning experience. Video options include features like changing the pace of videos in order to slow down or speed up the video speed. This is a huge plus when you are taking notes or solving problems. Another great perk is the ability to mark parts of a video that you want to come back to later so that you don't have to watch the entire video again. You can also take notes right in the video app by scrolling to the bottom of the video feed. All notes are available both on the videos, and under "My Notes" in your profile.
Analytics and Progress Tracking: 7Sage LSAT Analytics keep track of your progress and scores so that you can see them whenever you log in. Analytics monitor and update your scores as you take tests and identify areas that require further study.
Study Guides and Pacing: A basic study guide helps keep students on track. 7Sage divides learning material into small sections and advances you through levels as you learn. For example, you will begin with General Theory, and as soon as you master that content, you move on to Specific Theory. As you continue at your own pace, the program introduces you to more advanced study material. You can also generate an LSAT study plan based on the material available in the subscription that you choose, and your preferred start and end date.
Free Trial and Money Back Guarantee: 7Sage offers a limited free trial for their LSAT prep course. You can log in and see what is available before you commit to buying the product. You'll get free lessons, be able to  take part in discussions with other students studying for the LSAT, and have access to the LSAT Scorer. The free recorded video explanations for every Logic Game (ever!) are a really nice touch. They are all in HD with variable playback speed, and students can ask questions. The money back guarantee means you can try the program risk-free. If you don't like it, ask for a refund within 14 days.
No Tutors: Many students benefit from tutoring options, but it is not available for any of 7Sage's LSAT courses. Extensive tutorial videos address many typical questions about the LSAT and its individual sections, and students can ask questions in the discussion area, but those who are interested in one-on-one help should look to another course for tutoring.
Ideal User
7Sage's LSAT course will appeal to tech-oriented students who are self-motivated and prefer to study at their own pace without attending classroom sessions. Videos, flashcards, and PDF lessons are all delivered online, and the free proctor app (for iOS and Android) simulates the test environment by including distracting noises, a turbo mode, five minute warnings, and real instructions.
Students can study whenever they can find the time if they have a job or other commitments. Most importantly, this is one prep course that won't break the bank. Even the most expensive course option is priced well under the cheapest options offered by most competitors.
My Suggestion
The 7Sage LSAT Course is a good choice for students on a tight budget. Tutoring and extra LSAT prep tests are not included, and students will have to pay for prep tests to use with the course. The active discussion board is popular with students looking for support from peers regarding law school applications and the LSAT.
One nice feature is that you can buy a less expensive course and later upgrade to the next level up by just paying the difference. Your course will also be extended by one month if you take advantage of this option. Unfortunately, all packages are limited to a set number of months and students have to pay to extend the time frame.
---
Summary of Course Features
400 Hours of Video Lessons and Explanations
1000+ Practice Questions
Written Lessons (PDF)
Explanations for 38 Practice LSATs; Prep Quizzes
Logic Games, Analytics
Free Proctor App (iOS and Android)
Flashcards
Hundreds of Additional LSAT Questions as Problem Sets
Pricing
LSAT Starter
Price:$179
Includes: 3-month course of 400 lessons, 50 hours of video, study schedule, 300 LSAT Questions, 1,300 LSAT questions explained in HD, full video explanations for 10 LSAT's.
LSAT Premium
Price: $349
Includes: 6-month course of 400 lessons, 50 hours of video, study schedule, 600 LSAT Questions, 2,700 LSAT questions explained in HD, full video explanations for 24 LSAT's.
LSAT Ultimate
Price: $549
Includes: 12-months course of 400 lessons, 50 hours of video, study schedule, 1000 LSAT Questions, 4,100 LSAT questions explained in HD, logic games, full video explanations for 38 LSAT's.
LSAT Ultimate +
Price: $749
Includes: 18-months course of 400 lessons, 50 hours of video, study schedule, 1000 LSAT Questions, 7,200 LSAT questions explained in HD, logic games, drill packs for LR questions, full video explanations for 38 LSAT's. Plus a bonus Admissions Course.
Extra Prep Test
Price: $24.97
Includes: 1 month of extended access to LSAT course and 1 full practice exam.
Extended Study Time
Price: $24.99 (1 month) – $119.99 (12 months)
Includes: Extension of access to full course
Compare 7Sage to the best LSAT Prep Courses by clicking the button below:
---
7Sage LSAT Review Course Information
| Rank | 7Sage LSAT Review Strengths |
| --- | --- |
| 1. | Huge Content Library |
| 2. | Multiple Subscription Options |
| 3. | On-Demand Learning |
| 4. | Extensive Tutorials |
| 5. | Video Customization |
| 6. | Analytics & Progress Tracking |
Written by:

Crush The LSAT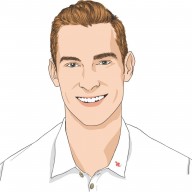 Bryce Welker is an unstoppable force in the worlds of business and education. He's a dynamic speaker, expert blogger, and a regular contributor to top-tier publications like Forbes, Inc.com, Business.com, and AccountingToday.com. With a proven track record of founding over 20 innovative test prep websites, Bryce has helped countless students and professionals pass their certification exams and achieve their dreams. Whether you're seeking career advancement or educational success, Bryce Welker is the ultimate guide to help you get there.