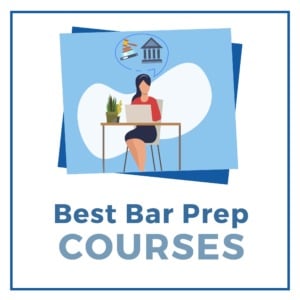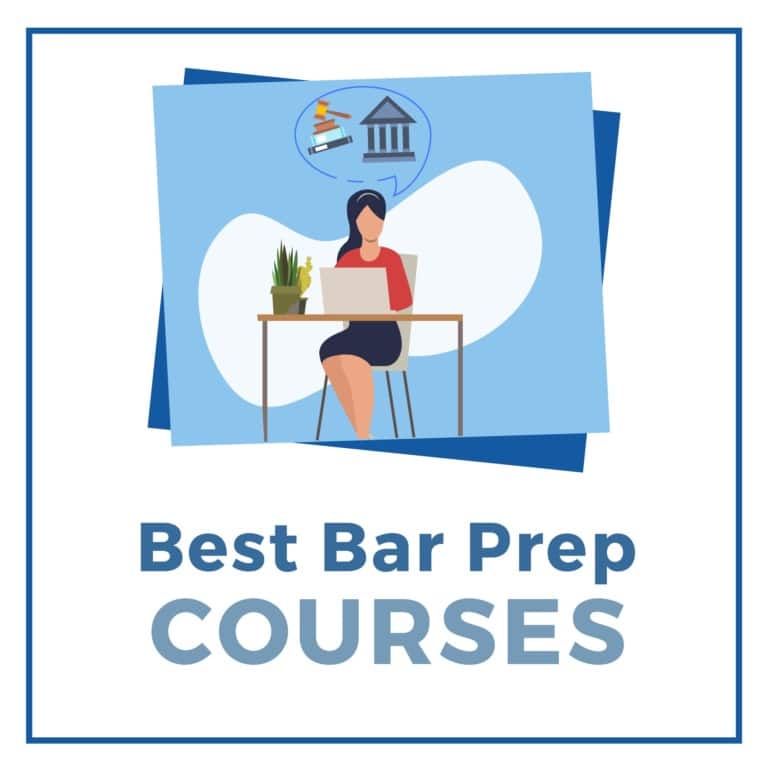 Do you want to be a lawyer? If so, you'll encounter a lot of obstacles along the way.
One of the last and most important hurdles that an aspiring lawyer has to overcome is the bar exam. Passing the bar is a rite of passage and establishes the base level of knowledge that all lawyers must have in order to practice.
But passing isn't easy— it's even harder than the LSAT, if you can believe that. What's worse is that the test has been getting harder with each year, lowering the pass rates in many jurisdictions.
So what's the best way to prepare for the bar exam? That's the easy part!
Using a bar exam prep course is the ultimate way to make sure that you have the best chance of success. We've listed courses below that will make you more confident as well as help you to obtain the best possible score on your first try.
There are tons of courses out there, but these ones are the best:
Compare The Best BAR Review Courses
---
1. BarMax Review

No matter where you are or what you're doing, you can use BarMax to maximize any free moment you have. They have the best overall combination of content and features that is flexible enough to fit with any schedule— so it's a great choice if you struggle with achieving a work/life balance.
Course Details
This bar exam review course has an efficient and easy-to-use dashboard. You'll only see the content you need to study in order to pass without wasting time on superfluous topics. Many of the practice questions included with this prep course come from past iterations of the exams, and all of them have detailed answer explanations.

BarMax is entirely mobile and tablet friendly, so you can take your bar study guide on the go. You don't even need an internet connection to access it; this might disappoint you if you're looking for excuses to procrastinate!

They also provide analytics to help you keep track of your progress and message boards where you can ask questions to instructors and fellow law students. Lastly, there are tons of lectures on their platform with full outlines included to help guide you along the way.
BARmax features:
1,750+ multiple choice practice questions

Lectures with detailed outlines

Lifetime access to course content

Mobile app with offline access

Personalized writing feedback

Flexible pricing structure
BarMax Pros and Cons

Pricing:
Depending on your state, access to their courses can be as low as $1,499— much lower than the industry average. This gets you lifetime access to many features, including lectures led by Harvard Alumni. You only need to pay once for a pool of resources that can provide valuable insight well into your legal career.

Financing: If you're still worried about budgeting, BarMax lets you split the total cost of a course into 3, 6, or 12 monthly payments. They also offer special discounts to lawyers looking to specialize in Public Interest Law.

Study Planner:
Schedules can become hectic when trying to keep up with law school and studying for the bar exam. Luckily, BarMax makes this easier with a study planner that keeps you on track with your lesson plans. Using their guided schedule will help you maintain consistent and healthy study habits.

Personal Instruction:

With all of the features that BARmax provides, it's unlikely that a person would need any extra help. There are message boards you can post on to ask instructors questions, but nothing resembling a traditional classroom or private tutoring.
Bottom Line:
BARmax is one of the absolute best bar prep courses; they have everything you could possibly need to pass the bar exam on your first try. Their mobile app provides access to all of their content at any time while their pricing structure is flexible enough to make sure that you can pay in a way that makes the most sense for you.
---
2. Quimbee Bar Review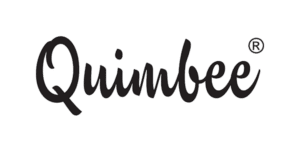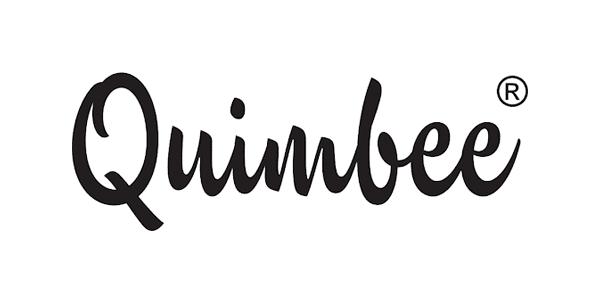 Quimbee Bar Review is another great resource for aspiring lawyers. They have a multi-faceted and highly inclusive approach to help you prepare for the bar, and it's backed by a ton of content. If you're nervous about passing the bar, they have plenty of tools to help you out along the way.
Course Details
Are you studying for the UBE, MPRE, or MBE? The answer doesn't matter— Quimbee has ample practice questions to make sure you are ready for any of these exams. They have over 1,800 practice questions in their base package and 5,000 additional questions in their Study Aids monthly package.
Quimbee also makes sure to support different learning styles through multifaceted study materials. Most of their content comes in both print and digital formats, and they also have a library of professionally-crafted video lessons. There's also a handy mobile app so you can learn on the go.
Check out a sample of their unique video lessons below:
Quimbee Features:
1,800+ MPT, MEE, and MBE practice questions

High-quality video lessons

Print and Digital Textbooks

Mobile App

Affordable pricing and financing

Retake until you pass guarantee
Quimbee Bar Review Pros and Cons

Pricing:
At under $1000, Quimbee makes bar review extremely affordable. They also offer financing options through Affirm— you can worry about paying it off once you start making a lawyer's salary!

Mobile App:

Quimbee's mobile app provides access to their content no matter where your daily schedule takes you. It's available on both Android and iOS, with progression saved between your devices; you can have a quick study session on your phone and then pick up where you left off once you get to your computer.

Retake until you Pass:
If you don't pass the bar exam on your first try, you'll have unlimited chances to retake their bar review course. However, you're probably not going to need this if you follow all of Quimbee's course materials and outlines.

No Audio Format:

Quimbee offers great video lectures, but nothing in audio-only format. This makes it harder to get some extra studying in while multitasking, but you might still be able to figure something out.
Bottom Line:
There are a few things missing in Quimbee's bar prep course— but they make up for it with consistency and reliability. Their guarantee shows their own confidence in their study materials and their ability to help you perform at an optimal level on the bar exam!
---
3. Crushendo Bar Prep Course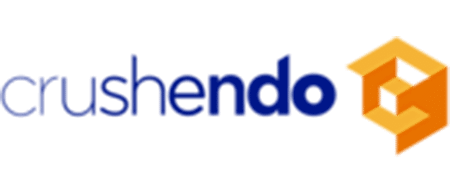 Crushendo doesn't offer the same variety of study content that you can get from BarMax or Quimbee. But if you're simply looking for an affordable collection of MPRE, MEE, MPT, and MBE questions, Crushendo is a smart choice.
With this prep course, you get over 2,000 practice questions covering state-specific and general bar exams. Crushendo also uses hundreds of mnemonic devices, which make it a lot easier to memorize complex topics. And unlike Quimbee, you get downloadable audio lectures and even audio flashcards.
Bottom Line:
Crushendo is a fantastic choice for auditory learners. Their lectures are downloadable and their flashcards have audio options to better help you memorize key terms and concepts. While they don't have the bells and whistles of other courses, they do offer all of their review materials at an attractive price point that shouldn't be ignored.
---
4. Kaplan Bar Prep Review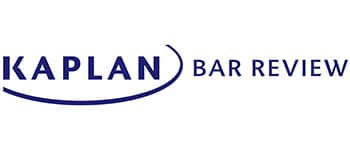 Kaplan is like the McDonald's of exam review. No, they're not cheap and salty— but they're available to you at any time and for almost any type of exam you might need.
Luckily for law students, their bar exam review course is top-notch and effective. However, they can't compete with our top picks when it comes to cost, and it doesn't bring anything new to the table like Crushendo's audio-based mnemonic techniques.
With that being said, this is still an incredibly solid resource for preparing to take your state bar exam. You have plenty of perks when you enroll: unlimited essay grading, in-person/on-demand/live-online lectures, and practice exams with simulated testing conditions.
Kaplan also helps you schedule your study time appropriately with a countdown that kicks in about two weeks before your test date. If that's not enough to show their comprehensive approach, they also throw in 4,000 practice questions designed after the actual bar exam.
Bottom Line:
Kaplan is not our first choice for bar review— that would be
BarMax
. However, they have an outstanding reputation in test prep that's well-deserved. Their price point is higher than we'd generally like to see, but the quality is certainly worthy of the asking price!
---
5. Bar Prep Hero Review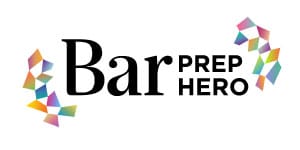 Like Crushendo, Bar Prep Hero specializes almost entirely in exam practice questions. This isn't a bad thing, but they lack a lot of extra content that you could otherwise get with Quimbee. However, they also have audio recordings to help you better prepare for the exam and some original questions that can't be found anywhere else.
For less than $500, there's a good amount of content included in their bar review course: thousands of real MBE practice questions, hundreds of simulated ones, and just under 2,000 digital flashcards. They also cite the answers to each question with real legal precedents, which will be incredibly helpful once you start your legal career.
Unfortunately, Bar Prep Hero only grants access to this content for a year under their current subscription. But since you can easily access it on a desktop or mobile device, you should be able to pack a lot of study time into those 365 days!
Bottom Line:
Despite thousands of well-written MBE practice questions, the limited types of content and short subscription time length make this a less desirable option than
BarMax
. But this is still a great budget pick, and can be an excellent supplement if you're a repeat test taker.
---
6. Smart Bar Prep Course

SmartBarPrep is focused on studying efficiently and effectively instead of providing a ton of content. This approach may work for some, but their overall value falls short when compared to a lot of other online bar prep courses.
You'll get pointers on the best topics and study methods for your bar exam. They have Essay Priority Outlines, Frequency Charts, and Smart Attack Sheets— which are infographic-style breakdowns that can help you quickly understand and memorize complicated legal concepts.
One of the features we like the most about this course is smart flash cards. There are over 1,000 of them included, and they use adaptive learning tech to generate custom study plans specific to your needs.
Bottom Line:
This is more of a study method than a full study course. SmartBarPrep is the best fit for someone who's already taken the exam before and needs to improve their grade. It's not a full-blown course, but it does have undeniably great features.
---
7. AdaptiBar Review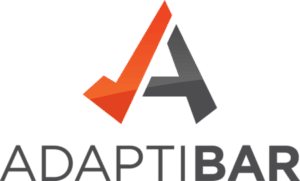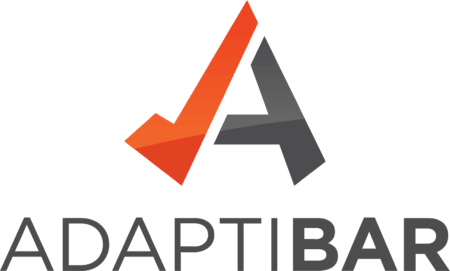 AdaptiBar is a collection of licensed practice questions that came from previous bar exams. Sounds simple, but there's a twist; their platform guides you through based on your performance.
Aside from the 1,700+ officially licensed practice questions, this course includes 215 simulated questions. Their platform is unique in that it will serve you questions based on how well you do. If you struggle with certain questions, they will give you more of those questions until your performance improves. This helps to improve on areas of knowledge that may not be as fully formed.
This kind of tech is uncommon among bar review courses; the closest example that I can think of is SmartBarPrep's smart flashcards. For that reason alone, you might be interested— but if not, just stick to BarMax instead.
Bottom Line:
AdaptiBar is an excellent choice for extra practice on top of a more comprehensive course. Their platform is great at helping you work through your weaker areas of knowledge and will help you improve on problem areas for your exam.
---
8. Themis Bar Review

Themis Bar Review has a solid collection of content to offer the serious student. They have a lot of content to offer, but it's not at a very competitive price.
Signing up gives you access to quizzes, video lectures, simulated exams, 3,000+ practice questions, and flashcards. They also provide essay grading, so you can get an idea of what your grade might be on the actual bar exam essay portion.
Do you like to compare yourself to others? If so, the Performance Analytics included with Themis might interest you. You'll know exactly where you stand in comparison to hundreds of other law students— no pressure!
Bottom Line:
Themis Bar Review is a solid choice for bar exam review. Unfortunately, there's not much to justify using this course over a cheaper one like
Quimbee
or
BarMax
. Still, it has some unique features and a lot of well-made content, so you won't regret using it to study if you're interested.
---
9. Barbri Bar Prep Course Review

Barbri stands out for being in the test prep game for so long. At almost a whopping 50 years, they have perfected their approach to bar review and have exemplary study materials on offer. They also have the option of live-online or in-person lectures, which can be hard to find.
In addition to offering a unique bar review curriculum per state, Barbri is also well-equipped with a wide range of study materials. They offer online lectures, in-person lectures, study materials in their online platform (which also include progress tracking), and simulated exams. There's also a mobile app, multiple bar practice workbooks, and essay feedback. 
As their content is state-specific, you can be sure that everything you are reviewing is vital to your specific iteration of the exam. But it doesn't come cheap, so you might want to stay away unless you want to drop $3,000+ just to prepare for the bar exam!
Bottom Line:
Barbri would probably earn one of our top spots if it wasn't so expensive. But if you don't mind a higher cost for quality they can still be an incredible value.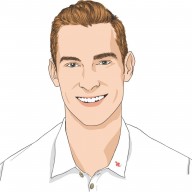 Bryce Welker is a regular contributor to Forbes, Inc.com, YEC.co and Business Insider. After graduating from San Diego State University he went on to earn his Certified Public Accountant license and created CrushTheCPAexam.com to share his knowledge and experience to help other accountants become CPAs too. As Seen On Forbes