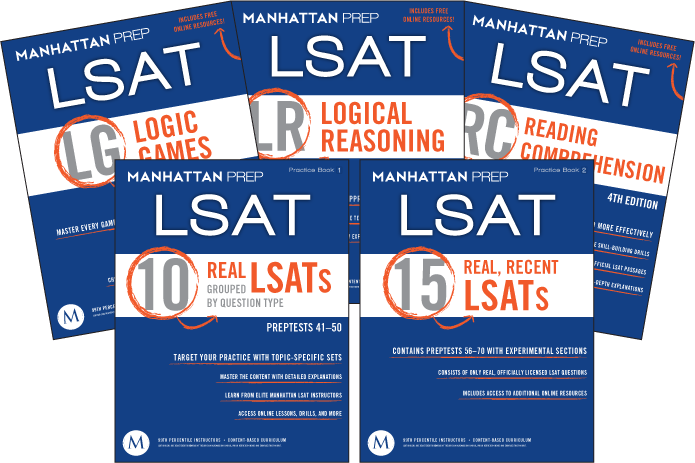 RATING: ★★★★★
Manhattan Prep LSAT is a flexible course that includes a choice of traditional in-person classes, online live LSAT classes, and on-demand online lessons that can be completed at your own pace. Study materials include hard copies of practice books and a full suite of online materials.
Manhattan's live classes follow a syllabus and are similar to traditional college classes. The online live and on demand options are a better choice for students who need more flexibility in their study schedule, or who may not have access to a location where in-person sessions are available.
PROS
1. Small Classes
Students who attend the live classroom sessions will benefit from smaller classes because Manhattan limits class size to 25 participants, although classes often have as few as ten students. This means more instructor support and interaction during class – a clear advantage if you need extra help, have a question, or prefer to interact directly with an instructor while you are solving problems and answering test questions.
2. Customized Syllabus
Manhattan Prep provides a each student with a customized syllabus based on initial testing. The syllabus addresses weak areas by providing additional practice where it is needed most. The syllabus also keeps you on track so that you cover all the material before your exam date.
3. Free Trial
Manhattan offers free proctored LSAT exams and trial classes at various locations in the USA. You can also sign up for a free online class or try the self-study option before you pay for the complete course. Check their website for a list of dates and locations and additional free resources. You can also download a free practice LSAT to try at home while using their Virtual Proctor Video to keep track of time and simulate an actual exam.
4. Tutoring Available
The private tutoring option offers one-on-one tutoring, although this personalized program comes at an additional price. You can request 2-hour tutoring sessions in person or online for $225 per hour, or buy a tutoring package if you need more than ten hours and want to combine it with the online or in-person course. All instructors and tutors have scored in the 99th percentile of the LSAT.
5. In-Depth Material
Three strategy guidebooks explain and provide many examples of each type of test question, and two practice test books include full-length practice LSATs. The Interact LSAT Course includes 50 interactive video lectures, an LSAT tracker to interpret your practice test results, guided lessons and exercises, handouts, an LSAT forum, and online labs. In addition to the practice books, students have online access to every LSAT that has been released by LSAC and explanations for the correct answers.
CONS
1. Limited Live Locations
Although the on-demand and live online options are available nationwide, the in-person course is limited to specific metropolitan areas. Students who prefer in-person lectures and review sessions with an instructor or tutor may be out of luck, depending on their location. There is also no mobile app, although videos can be watched from your computer or iPad.
2. Game Questions Are Not Authentic
Some of the questions meant to prepare students for the Game questions on the LSAT have little in common with actual LSAT game questions. Manhattan states that they should be seen as study tools that may take longer to solve, or be a bit "sillier" than actual LSAT games. Many students prefer to prepare for exactly the type of questions that they will see on the exam rather than be spending additional time on brain teasers that may or may not help them on exam day.
Ideal User
The flexible nature of Manhattan Prep LSAT's courses offers something for everyone. Choose from online, on-demand, and in-person sessions to find the option that best meets your individual learning style and situation. The self-paced LSAT Interact course is ideal for students who want to study on their own schedule from the comfort of their dorm or apartment. Students can purchase the full course with or without the Live Review Sessions, or buy only section-specific modules.
Students who prefer the ritual of attending a class with regular homework assignments and interaction with an instructor will benefit more from the in-person or online live sessions to keep them on track. Study materials include both printed study guides and many online study aids, giving students the best of both worlds.
My Suggestion
The Manhattan LSAT course is a good option for both traditional and online learners. Whether you choose the in-person, live online, or on-demand course, online learning materials and printed practice books, as well as quality instruction, come with each package. Students who are looking for personalized support will benefit from a wide variety of options, in the form of weekly-one-on-one sessions, live online review sessions, and hourly tutoring. Take them up on their free trial today to find the best LSAT prep option for you!
Summary of Course Features
The Manhattan LSAT Complete Course includes 66 hours of live instruction (online or in person)
LSAT Interact includes more than 50 interactive video lessons for review at your own pace
Weekly 30-minute office sessions with an instructor to go over LSAT problems and answer questions
Access to the LSAT Online Forum
Three strategy guides that prepare you for the different types of questions on the exam
Two additional guides contain 15 recent LSATs and 10 LSATs that are grouped by type of question, respectively.
Online access to every released LSAT
Manhattan's LSAT Tracker to interpret your practice test results
On-demand recordings to enable you to review of concepts any time you want
Challenge problems
Interactive labs
Customized syllabus
Tutors for an additional fee
Technical support
Pricing
LSAT Live In-Person
Price: $1499
Format:66 hours of live LSAT classes offered in-person, weekly one-on-one sessions with an instructor to review LSAT problems and answer questions, unlimited online forums, full set of strategy guides and practice test books, online access to every previously released LSAT, LSAT tracker, on-demand recorded lessons, syllabus, challenge questions, and interactive labs.
LSAT Live Online
Price: $1199
Format: 66 hours of live online LSAT classes, weekly one-on-one sessions with an instructor, unlimited online forums, full set of strategy guides and practice test books, online access to every previously released LSAT, LSAT tracker, on-demand recorded lessons, syllabus, challenge questions, and interactive labs.
LSAT Interact Self Study
Price: $799
Format: 60+ hours of interactive video lessons, challenge sets, and homework explanations, access to online labs, homework explanations, and LSAT forums, full set of strategy guides and practice test books, online access to every previously released LSAT, LSAT tracker, on-demand recorded lessons, syllabus, challenge questions, and interactive labs.
LSAT Interact Self Study + Live Review Sessions
Price: $999
Format: Same as Interact Self Study plus 2-hour, live online review sessions that correspond to each of the 12 lesson sets in LSAT Interact. (A total of 24 hours with LSAT instructors to review concepts, ask questions and work additional problems).
Individual Section Course
Price: $375 each
Format: Course on Logic Games, Reading Comprehension, or Logical Reasoning.
Manhattan Prep LSAT Course Information
| Manhattan Prep LSAT | Strengths |
| --- | --- |
| 1. | Discount Codes Offered |
| 2. | Small Classes |
| 3. |  Customized Syllabus |
| 4. | Free Trial |
| 5. | In-Depth Study Material |
Written by:

Crush The LSAT