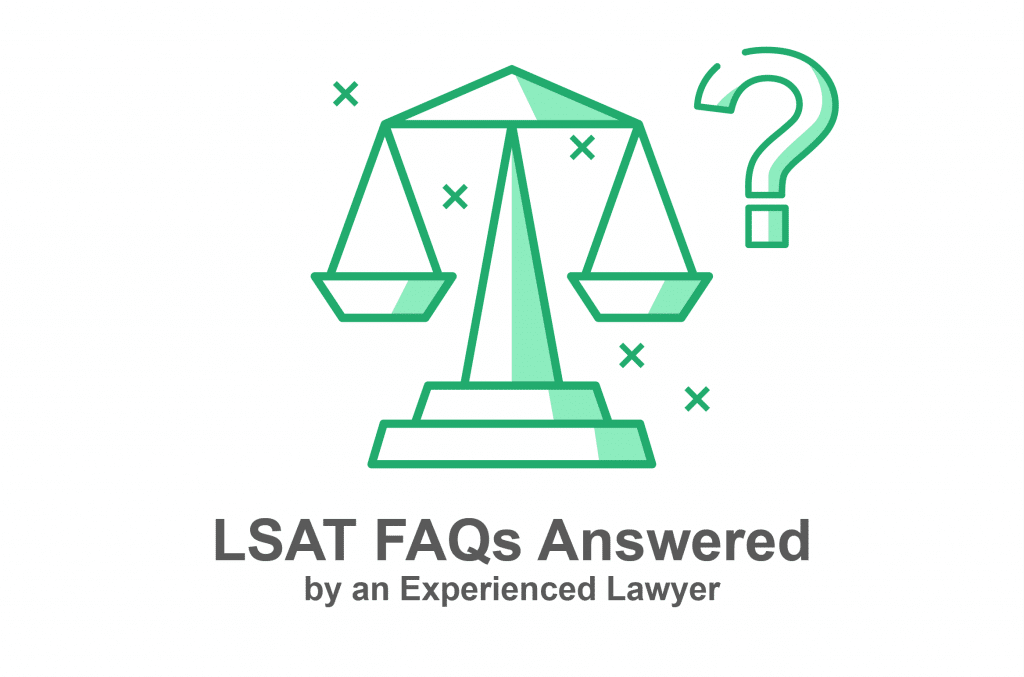 Valerie Keene is an experienced lawyer and legal writer, editor and content manager. Her litigation successes have included wins for cases involving contract disputes, real property disputes, and consumer issues. She has also assisted countless families with estate planning, guardianship issues, divorce and other family law matters. She provides clients with solid legal advice and representation. She has provided educational legal content for over a decade, focusing on various practice areas, including family law, estate planning, immigration law, personal injury and toxic torts. You can read more of her work here.
If you're thinking about taking the LSAT, you've come to the perfect place! Below, I've listed the most frequently asked questions about the LSAT. I've also provided answers from my perspective as an established professional who has already passed this test with flying colors!
---
What is the LSAT?
When law schools consider applicants for admission to their universities, they typically weigh his or her GPA, background and LSAT score. In particular, their LSAT score is often used to differentiate the strength of one law school applicant from another. Additionally, this is the only standardized test that is accepted by all ABA-accredited law schools.
The LSAT consists of about 100 questions over five sections in the following subjects: reading comprehension, logical reasoning and logic games. There's also an experimental section that looks just like the other main sections and an optional writing section. Basically, this exam is designed to test applicants' ability to perform key skills required for them to be successful in law school and as a lawyer.
---
What Does LSAT Stand for?
LSAT stands for Law School Admission Test. The test is administered by the Law School Admissions Council, or LSAC for short.
---
How Long Does the LSAT Exam Take?
You should plan on spending about four to five hours on test day. Each of the five sections takes 35 minutes, so the total test time is 175 minutes. Furthermore, there's also a 35-minute timed, unscored writing sample section for those who want to take it. You'll also have some extra time built in for a break during the test. Finally, you'll have to arrive before the actual test time: usually 30 minutes. This will allow the administrator time to complete administrative tasks, such as checking your identification and giving test instructions.

---
When Are the LSAT Test Date?
While the LSAT used to only be administered four times per year, beginning in 2023, this was upped to nine times. Registration for the LSAT test opens up about five weeks before the test date. The announced test dates for the end of 2023 and the beginning of 2023 are:
September 2023 — LSAT

September 9, September 10

October 2023 — LSAT
November 2023 — LSAT
January 2023 — LSAT
February 2023 — LSAT
April 2023 — LSAT
June 2023 — LSAT
Monday tests begin at 12:30 p.m. and Saturday tests start at 8:30 a.m.

---
Where can I take the LSAT?
You must take the LSAT in an LSAC-approved test center. You can search for a published test facility based on your test date and zip code here. If you are located over 100 miles away from the nearest test center, you can request that the Law School Admissions Counsel establish a nonpublished test center.
---
What kind of questions are on the LSAT?
The LSAT has approximately 100 scored multiple-choice questions. The breakdown of these sections include:
LSAT Reading Comprehension Questions
The reading comprehension section consists of approximately 27 questions. This section presents scholarly passages and dense texts that assess your ability to:
Understand dense and scholarly text on subject matter you're unfamiliar with
Identify main ideas and specific details
Read critically
Draw inferences based on text
Find relevant information within a text
On this section, you will find a long reading passage followed by a series of questions. Three of the passages will be from one author and the fourth passage will be from two authors who discuss the same subject with different viewpoints.
LSAT Logical Reasoning Questions
The logical reasoning or "arguments" aspect of the test make up two sections of the LSAT. Therefore, this section represents about half of your total score. Each section consists of 24 to 26 questions. Essentially, this section will provide you with a short set of text that argues in favor or against a certain point. You will then be asked questions that test your ability to:
Identify relevant information within a text

Analyze and evaluate arguments

Identify the main points in arguments

Determine whether arguments are strong or weak and the source of these strengths and weaknesses

Apply logic to abstract concepts
LSAT Logic Games Questions
The logic games or "analytical reasoning" section of the LSAT consists of four games, followed by four to seven multiple-choice questions per game.
The logic games section tests your ability to:
Think analytically
Apply logic to a series of facts and complex situations
Use deductive reasoning
Find structure within organized data
Determine relationships between concepts
Understand the effects of rules on potential outcomes
Draw reasonable conclusions based on stated guidelines
Some of the games will require you to use matching skills while others require sequencing skills. Additionally, some games will require both types of skills. You may have to draw charts and other visual aids to help you with this section.

Experimental Section
Every LSAT has an experimental section that isn't scored. This section will appear like the other sections and may be reading comprehension, logical reasoning or logic games. You will not be told during the test that this section is the experimental section. It's used to test new questions in the future and evaluate performance on them.
LSAT Writing Sample
The optional writing portion of the test appears at the end of the test. Like the other sections of the test, this section is 35 minutes long. However, it is the one question on the test that is not in multiple-choice format. In this section, you're presented with an essay and asked to take a position on it; you must then support your position in writing. This writing sample doesn't go toward your LSAT score, but law schools you apply to can receive it and use it to help make admission decisions.
This section tests your ability to:
Argue for one position
Form an argument based on specific facts
Use written English to express ideas
Write persuasively
Support a position while criticizing the alternative position
Get a Preview
Learn more about the LSAT sections by reading up on them at this link. Alternatively, you can review old released former LSAT tests to get a preview into how the test is structured and what the questions look like.
Related Articles & Blog Posts
Alphascore LSAT Review Course
---
What is a Good LSAT Score?
Before you can try to figure out what a "good" LSAT score is, it is important to understand how LSAT scores are calculated. Essentially, your score is calculated by the number of total questions you answered correctly. Each question is worth the same number of points, and a special chart is used to convert this score to a scaled LSAT score. Finally, you're scored between 120 and 180.
While 152 is the average LSAT score and anything above this may be considered "above average" and therefore "good," a good LSAT score is basically what you and the law school where you are applying consider "good." The higher above this average score you rank, the higher percentile ranking you will be positioned at, making you more competitive to other test takers.
Another concern about a "good" LSAT score is the score you need to qualify for academic scholarships. Many schools have a certain score they expect or require for admission, but they may require a higher score for an academic scholarship to help make law school more affordable for you.
Here's a good way to find out whether your score is good enough. There are two important factors you should consider:
The law school to which you are applying
How competitive the law school is
To determine if your score is good enough to get into the school of your choosing, check the 25th-to-75th-percentile score range and median LSAT score for the school. Alternatively, you can use this tool to determine the probability of you being accepted to a particular law school given your g.p.a. and LSAT score.
Some more details on good LSAT scores for specific schools are discussed below.
---
What Is a Good LSAT Score For Harvard?
While there isn't a specific LSAT score that will guarantee entry into Harvard Law School, it's important to know that Harvard offers admission to only a very small fraction of the applicants it receives each year. In 2023, it only offered admission to 12.8% of the total 7,578 applicants who applied to the prestigious school. Therefore, you should plan on having an LSAT score in excess of 170 to have a chance of being admitted here, coupled with a GPA in excess of 3.75.
The 2023 class had the following Harvard LSAT score and GPA percentiles: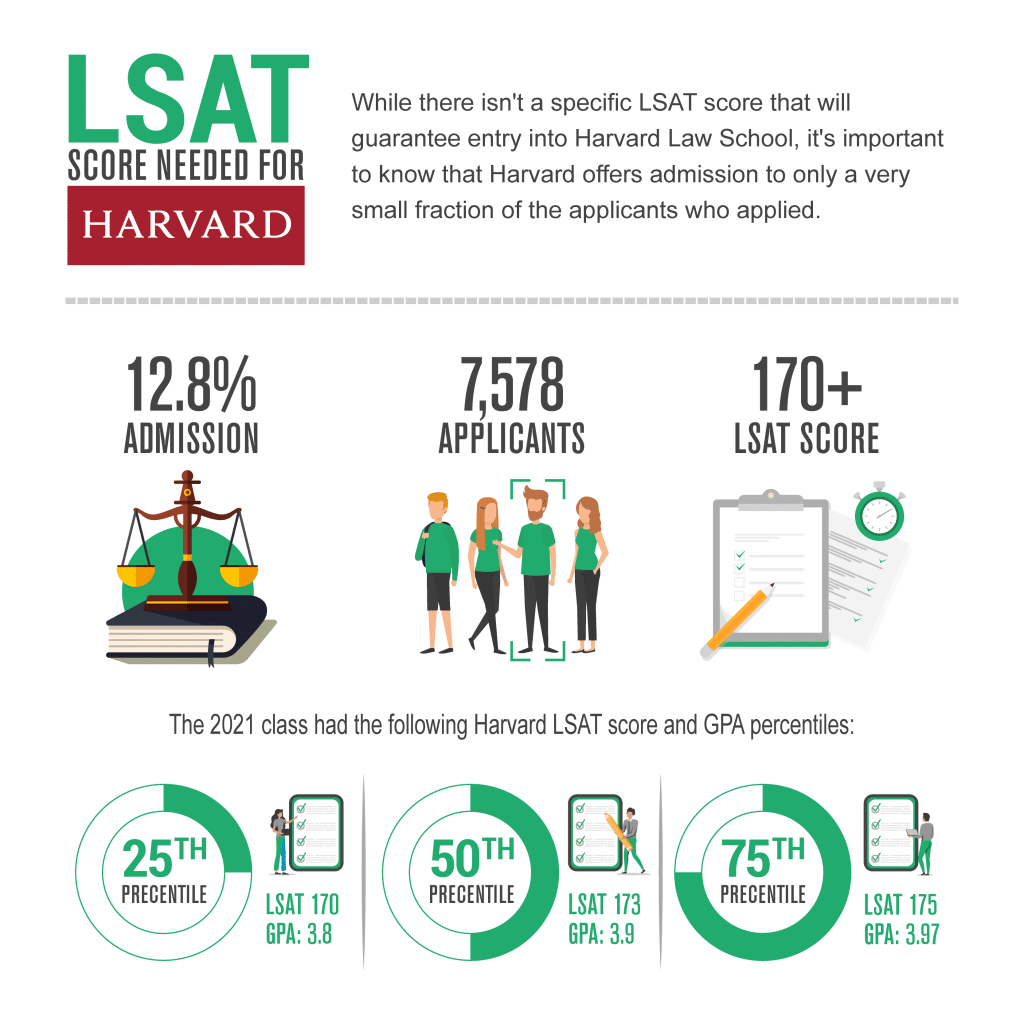 25th percentile
50th percentile
75th percentile
---
What LSAT Score Do I Need for Yale?
Yale was ranked as U.S. News' number one ranked law school in 2018. It tied with Harvard with having the highest median LSAT score of 173 for students entering law school in the fall of 2018. Yale reported its 25th percentile LSAT score as 170 and 175 for the 75th percentile for this class. However, the school also noted a Yale LSAT score of 156 for at least one of its applicants, while also noting a perfect 180 on the high side.
---
What LSAT Score Do I Need for NYU?
New York University is ranked as the 6th best law school by U.S. News, which reported that the school's median LSAT score is 170. The fall entering class in 2018 consisted of 425 full-time students who had the following academic credentials: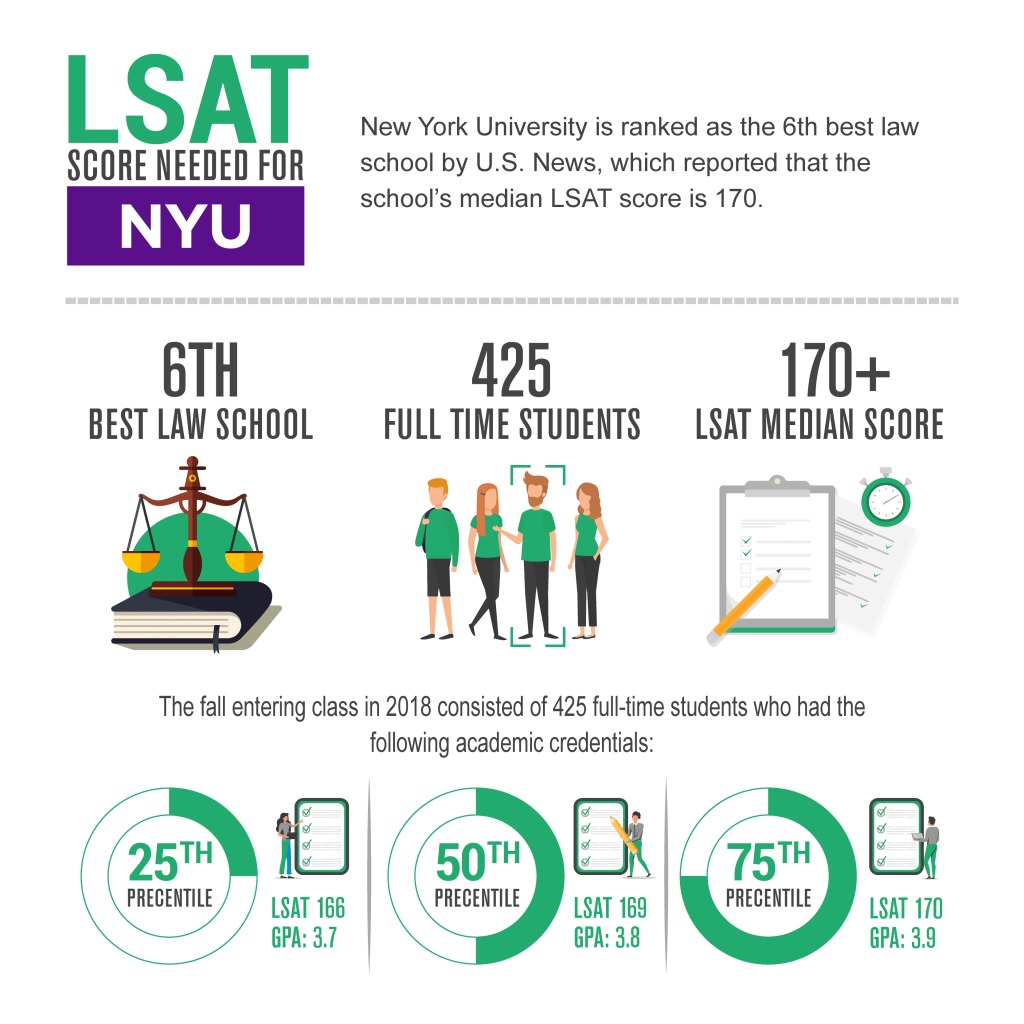 25th percentile
50th percentile
75th percentile
Therefore, an NYU LSAT score of 170 should place you in a competitive position for admission to this elite law school.
---
When Are the LSAT Score Release Dates?
Check here for the latest LSAT score release dates: https://www.lsac.org/lsat/register-lsat/test-dates-deadlines-score-release
---
When Should I Start Studying for the LSAT?
The average time that applicants take to study for the LSAT is three to six months, which includes approximately 150 to 300 hours of study. However, the more time you have to devote to studying for the LSAT, the better! Because there is so much weight given to your LSAT score during the admissions process, spending time studying for the LSAT and improving your score is a great investment.
---
How Do I Prepare for the LSAT?
Preparation for the LSAT can make a dramatic difference to your LSAT score. LSAT prep may take on many forms. Some of the most common options include:
Self-study – Many students choose to study for the LSAT on their own. They set up their own study schedule and use printed books, released tests and sample questions from online and print materials to study for the test.
Prep course – Currently, there are several great online LSAT prep courses. These courses give you a study plan and access to analytical tools that let you see where you are at and identify your strong and weak areas.
Tutoring – Some people rely exclusively on private tutoring while others use it to supplement their other forms of study. Personal tutoring can help you work specifically on the areas that will generate the most improvement and increase your overall test score.
How Should I Start Studying for the LSAT?
Regardless of which LSAT prep method you choose, your study should focus on:
Familiarizing yourself with the test
Taking practice tests under timed conditions
Developing your skills in critical reading, verbal reasoning and analytical thinking
Devising ways to quickly and accurately approach logic games
Honing your reasoning and critical reading skills
Did we miss any of your burning questions? Leave a comment and we'll do our best to answer all your burning questions!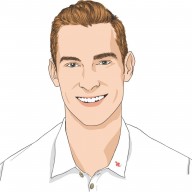 Bryce Welker is a regular contributor to Forbes, Inc.com, YEC.co and Business Insider. After graduating from San Diego State University he went on to earn his Certified Public Accountant license and created CrushTheCPAexam.com to share his knowledge and experience to help other accountants become CPAs too. As Seen On Forbes